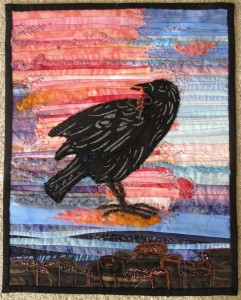 O Creator and Muse of all creators
O Releaser of the Light
O Gatherer of Wisdom
O Bard of Prophecy
O Cleanser of Death
O Mediator at the Threshold
O Healing Shaman
O New Moon Shapeshifter
O Companion of the Blessed. . .
Unlock the closed circles of my spirit
Strip clean my integral bones
that I might build greater Self
Proclaim my vision
Companion my immram
So may it be! So may it be!
Chapter One   
When I was just shy of four years old, my mother – in self-defense – taught me to read. I suspect she knew that she would be spending all day everyday as a slave to my passion for words unless she gave me the skill to slake my own thirst.
Since then, I have danced through a splashing storm of words like Debbie Reynolds singing in the rain and  I've drunk myself into a stupor at well-springs of words. I've walked a tightrope of words across more than one abyss of sorrow and loss. I've carried the burden of words spoken in confidence. I've wrapped words like tourniquets around the wounds I thought I might not survive. I've whispered words of fear and roared words of anger. I've fallen in love with previously unknown words and fallen out of love with exhausted jargon. I've made up words…and been remade by others: wife, minister, writer, EMT, mother and, now, artist.

Side by side with words, has run a curiosity about fabric, maybe because words and fabric are both shaped by patterns. Indeed,  from the moment my grandmother taught me to sew on her old treadle Singer machine, I used patterns. I'd buy the fabric, cut the pieces, and sew according to the instructions.
In 2008, I began a completely different journey. After years of writing for publication (and for preaching), I had been telling friends that I felt that I was being called to something new. I described it as "the intersection of word and color" and they would nod sagely, although neither I nor they had a single clue what that meant. Then, in the middle of one perfectly ordinary day, six images flashed across the screen of my mind and I knew that I needed to somehow make them manifest in fabric.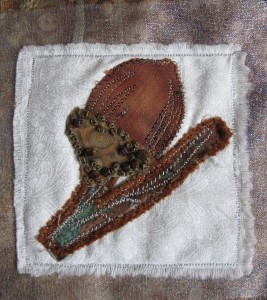 I chose one of those images (or, maybe, it is wiser to say it chose me) and I began cutting and sewing: no pattern, no size, nothing but a piece of canvas, a stash of fabric I had been storing for the time when "the intersection of word and color" actually had a meaning, and the image in my mind's eye. I started in one corner and allowed the piece to unroll across the backing.
As I worked, I named the piece because I knew that I was working on something that had a life of its own. The name was Duir (Oak of Strength). Duir often appears in various Irish composites as dara or dare. We know it in place names like Kildare (literally, Church of the Oak Tree).  And I expected to create a piece with the oak tree in the center.  Except the tree chose to root itself very firmly on the right of the canvas backing. And then Stonehenge appeared, and the next thing I knew, I had the triskallion symbol from Newgrange where I had visited a few years earlier. And, of course, the acorn was important because of the oak tree…and so were the leaves.
Then came the day when it was almost complete and I found myself looking for something to fill the space in the lower left hand corner (where the bone lozenge and the two stone beads are now) and, as I shook out a small plastic bag, the Shift key from an old typewriter fell into my palm. And I realized that the piece itself was a lexicon (a vocabulary in images) of the word "shift."
And the first chapter of my story opened. It was the chapter about shifting.
[Click on the image to enlarge it.]
Read More Chapter Two
NOTE: I am deeply indebted to Jon Wallen for the full-sized photographs of the five lexicons on this and the following pages. They may not be reproduced without permission.