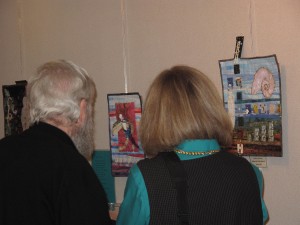 This Gallery is where you will find the pieces that tell the story of my immram beginning with my jubilee year (the year between my 49th and 50th birthdays). This set of five pieces, with a sixth under construction, is found in My Story.
It is also the place for you to come and browse through samples of commissioned pieces and pieces that are already in private collections. This includes not only the immrams, shrines, and focus pieces, but some liturgical art — stoles designed for my husband and paraments created for churches I have attended.
These are found in the Archives. My hope is that you will find inspiration here and images that resonate with your own journey.