LEANING INTO THE LIGHT:
Advent-Christmas-Epiphany Prayers (Year A)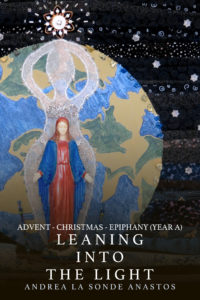 Radiant Love,
I am weary with the burdens of control.
I am weary of shepherding my flock of worries.
I am weary of being pregnant with possibility.
Let the birthwaters break and lift me on your living flood.
Let them sweep away my need to obsess and control.
Let possibility become.
May it be so.
This is a special worship resource for clergy and prayer leaders, available as an immediate digital download which can be used to cut and paste. Each week contains seven prayers designed to go with the lessons of the Revised Common Lectionary. (A sample Prayer of Preparation for Advent 3 is included above.)
The seven prayers are:
A Prayer of Preparation
A Call to Worship
Opening Collect
Prayer of Confession
Pastoral Prayer
Prayer of Dedication
Dismissal
The prayers are fresh in language, laid out in sense lines, and free for use in Orders of Service with copyright notice given.
You can see a full sample week  HERE
You can order this item as a digital download in my Etsy shop HERE.
CELTIC BLESSING BOOKLET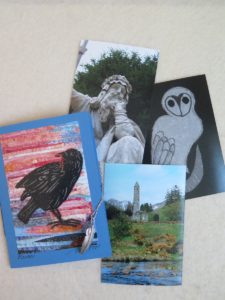 Twine me in the
protection of the nine blossoms
of the vernal equinox:
the generosity of warming earth,
the balance of daylight and dreamlight,
the heat of nearing sun,
the fertility of seed,
the coiled strength of shoot and sprout,
the health of early harvest,
the beauty of brightening color,
the delight of passion,
the joy of dancing wind.
Nine blessings
to draw me from bud
to leaf and flower.
This is a hand-sewn 12-page booklet containing my original nine-fold blessings for the quarter and cross-quarter days in the Celtic year. There is room inside the front and back covers to write your personal message and there are two pages for the card recipient to make her or his own notes. Also included is a brief introduction to the Celtic Year. (The sample blessing above is for the Vernal Equinox.)
The front cover can be made with any one of the four images shown: Raven (a detail from the fiber art piece 'Immram Chara'), a Druid from Croome in England, the Roundtower at Glendalough in Ireland, or Owl (a detail from the fiber art piece 'Matrix'). The back cover includes a wallet sized photo of one of the many stone circles I have visited in England, Scotland, Ireland and Orkney.
The booklet is designed to fit in a complementary envelope. (It does require extra postage.) You can order it from my Etsy shop HERE.