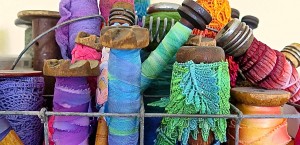 The store has been divided by area to allow you to browse more easily: Fiber art for meditation, Stoles, Cards and prints. Stoles are available only by personal commission so that they reflect your own most important imagery; therefore the ones in the Stole section are for inspiration only. All of my work can be purchased or commissioned through my Etsy shop  — clicking on the link will take you directly to the store.
Once something is sold, it will appear in the gallery archives. If you are looking for a custom piece, you may want to reflect with these items, looking for images, colors, and ideas that speak to you. If you would like to discuss a commission, please contact me and let's look at possible scheduling.
Please note: Everything I create is handmade, so each item will be slightly different, even when the same themes or images are evoked. I say this as a warning that a commissioned piece is not going to be identical to the piece you may be looking at, even if you only think you are changing the colors.
For my art to unfold, I need to allow it to bring its own authenticity to the creative process. . . but you wouldn't want something that looks mass-produced anyway, would you? That's why you are looking here.