These ponderings originally appeared one per day via MailChimp. 
This weekly version keeps them in one place for people who missed the daily postings.
If you would like to sign up to get them daily, you can do so by
filling out the Mailing List Form HERE.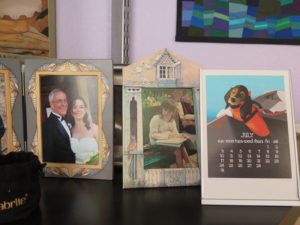 Seeing (or Not)
We see…and we don't see.
Far too often, we see what we expect to see
rather than what is actually in front of us.
Sometimes this can be life-threatening…and the stories are legion.
Sometimes it can cause momentary embarrassment.
Sometimes it is just funny.
I have been looking at this shelf all month
and feeling like something is 'wrong with the picture'
(so to speak).
Yesterday, I finally figured it out.
[If you don't see it – and it took me over three weeks – I'll tell you.] In the meantime, it alerted me that I need to pay attention
to what I am really seeing around me
(especially when the stakes are higher than this)
and not ignore my inner sense that
'there's something wrong with this picture'.

Rational Paranoia
Without wanting to bore you,
I want to say it again –
maybe in a slightly different way than I did yesterday.
it is important to know what we know.
It is important to refrain from talking ourselves
out of knowing what we know,
to explain away what we know until we don't know it,
to dismiss it as our 'imagination'
as if our imagination is not the very way
we apprehend new things.
There were times my father would quote
Joseph Heller's words from Catch-22,
'Just because I'm paranoid
doesn't mean they aren't out to get me.'
I think it is worth remembering these days.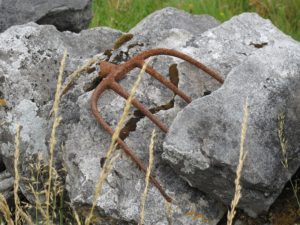 Forgiveness
Being in a somewhat cranky mood
courtesy of the aura
that seems to be enfolding our planet,
I have been thinking a lot about forgiveness.
I went back to old sermons and prayers,
trying to get back to the inner wisdom
that I can't quite hang onto when I get cranky
(and self-righteous, and disgruntled, and snippy).
Here is what I found to remind me about practicing what I (literally) preach:
Judging by my own heart…forgiveness is something that I find it hard to offer,
even when I find myself in a (spiritual, emotional, psychological) monsoon.
I ask myself what I am hoarding it for and have no answer.
I can only assume that it is for a possible meeting
with someone like Bashar al-Assad
(it used to be Idi Amin, but he died in 2003)…
when I would need a truckload just to stay in the same room.
But here's the thing: forgiveness doesn't come in truckloads,
it comes in heartfuls.
Like manna in the book of Exodus, it can't be saved or stored,
it can only be used at the moment.
And, like love, the more you give away,
the more you have to give away.
I can tell myself this without a shadow of a doubt.
Do you think I can do it?
Not so much.
But I can keep trying.
And in this desperately broken and polarized country,
this desperately broken and polarized world,
trying may be all that stands between us and oblivion.
[If you would like to read the whole post, you can find it HERE.] [Hanging onto anger and self-righteousness is a lot like stabbing yourself with a rusty pitchfork – it hurts like crazy and is almost certain to infect you with some kind of poisonous bacteria.]
Be Done
In response to my post yesterday,
my friend, Lori's, daughter reminded me
of a book she had inherited on her mother's death –
Unconditional Forgiveness (Mary Hayes Grieco) –
which begins with this quotation
from Ralph Waldo Emerson:
Finish each day and be done with it.
You have done what you could.
Some blunders and absurdities have crept in;
forget them as soon as you can.
Tomorrow is a new day.
You shall begin it serenely
and with too high a spirit
to be encumbered with your old nonsense.
And so I pass along those compassionate words to you:
a wise and loving message from
a wise and loving (and funny and gentle) woman
via her beloved daughter.
Besides, it is a good attitude as we come to the end of a season
and prepare to cross the threshold
from the summer to the autumn quarter.

Possibility
I am simply trying to remain open to possibility.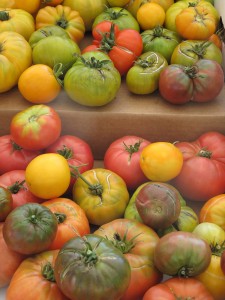 Crop(-ing)
Common wisdom would say,
"Plant a radish, get a radish…" (The Fantasticks)
But human beings are a little less predictable.
As Beltane draws to a close,
here is a question for pondering
(maybe sometime in the next week or so –) ,
What is the unique crop you have been
most prolifically this Beltane ?
Note: 'been' not 'grown'….
this is about ontology, not farming.
Or, if you prefer,
What is the most unexpected crop you have been?
Will you be storing this crop for the winter?
or is it something like manna that cannot be stored?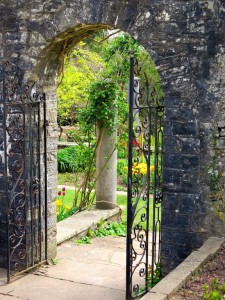 Farewell Beltane
The time of the early harvests,
the Celtic summer season ends at sundown tonight.
It is tradition to fare-well to the old season
at the back door of the house.
Here are my words, but you are free to use your own
(or to ignore the moment entirely!)
Familiar Companion,
warm presence enfolding intense days
and breathless nights,
relentless green energy
pushing up from dormancy,
to unfurl like zucchini vines
across the geography of my spirit.
My gratitude for your sojourn with me
bursts open buds
and showers flower petals
in explosions of thanksgiving.
Fare you well in your journey south
wrapped in my blessing
which is fruit of your blessing.
Text © 2016, Andrea La Sonde Anastos
Photos © 2015, 2016 Immram Chara, LLC