These ponderings originally appeared one per day via MailChimp. 
This weekly version keeps them in one place for people who missed the daily postings.
If you would like to sign up to get them daily, you can do so by
filling out the Mailing List Form HERE.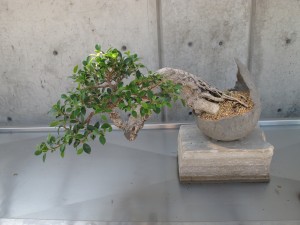 Getting to Macro
It is very easy to judge (and convict) one another
based on our personal experiences
We blithely offer advice like,
"pull yourself up by your bootstraps"
perhaps forgetting that if you don't own boots,
you also don't have bootstraps…
Mohammad Yunus offers a slightly different perspective,
"To me, the poor are like Bonsai trees.
When you plant the best seed of the tallest tree
in a six-inch deep flower pot,
you get a perfect replica of the tallest tree,
but it is only inches tall.
There is nothing wrong with the seed you planted;
only the soil-base you provided was inadequate.
Poor people are bonsai people.
There is nothing wrong with their seeds.
Only society never gave them a base to grow on."
[Muhammad Yunus is a Bangladeshi economist, social entrepreneur, and banker. He was awarded the Nobel Peace Prize for founding the Grameen Bank and pioneering the concepts of microcredit and microfinance.]
Another Option
Let's all try to maintain a sense of humor
about the recent Public Policy Poll
of 853 potential voters,
which reported that 13% would prefer
to have a giant meteor wipe out all civilization,
than to have to vote for either
of the current presumptive
presidential candidates.
(Reported in thehill.com)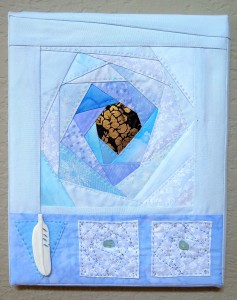 Truth (and Healing) to Share
Earlier in Beltane I admitted that while I would love to have one of my fiber art pieces hanging in a museum someday, that is not why I make them. They are really intended to be companions on a spiritual journey or through a life transition or during a challenging time.
It has been awhile since I asked your help to get one to someone who needs it…because they are all yearning to live with a particular someone and that someone may not even know they exist. So, again I invite you to help me discern.
If there is someone in your life (including yourself) who you feel would resonate to this piece, please let me know. It you would like to know more about the throat chakra, you can read about it HERE. I would like to offer it as a loan or gift from the universe through me to a person who needs this particular energy at this time in their life.
If you are interested in this piece, please send me your name and the person's situation — just a sentence or two about why you think they may benefit from the loan or gift of this piece. I only have one of these, so if I have more than one request, I will need to make a choice.
If it needs to be shipped, I ask that you pay for shipping. I will include a note that indicates it comes to the recipient courtesy of your request. I also ask if you take it for yourself, that you use it for as long as you need and then either pass it along to someone you know who may need it…or return it to me so that I may pass it along. (I will include this request with anything I ship as well.)
[This chakra was requested for someone about to begin an experimental treatment for a third bout with cancer. In the second week of Beltane, Solar Plexus Chakra went to an individual (a mentor of one of this community) who was having serious difficulty recovering from surgery and resulting infections. She is finally healing, although the process is taking longer than anyone would wish.]

Time Enough
On 14 July 2011,
Neptune completed its first full orbit of the sun
since its discovery in 1846.
For those of us who want
more year in our year,
moving to Neptune
might be just the thing.
But before we go there,
if you had that much time,
would you use it any more wisely
than you use the 365.25 days
in the current (Earth) year?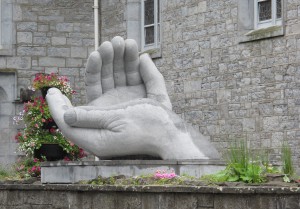 (W)holy One
In this time –
in this seemingly unending time – of violence
when our instinct may be
to drown into indifference,
to drug ourselves into numbness,
may we reach (instead) for the courage to feel
with a world of suffering.
And then may we sense, taste, hear, see the threads
that weave us into the universe
and may we call on that whole and holy tapestry to enfold us.
All of us: victim and perpetrator.
All of us: enemy and enemy.
All of us: the violent and the violated.
Be around us presence of unity.
Be within us spirit of diversity.
Be before us pillar of love-light and dream-darkness.
Be behind us breath of compassion.
Be beneath us stability of justice.
Be above us vision of mercy.
Be heart of wisdom in our hearts.
Be soul of power in our souls.
Be mind of balance in our minds.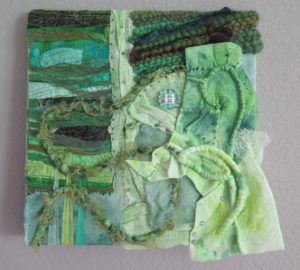 Patience
As we face into a time that will try the patience
of a saint (or a congregation of saints –
which is the correct term for a group of saints, they tell me),
maybe we need to notice our patience
(or lack thereof).
We have lost our patience, so to speak.
We are trained to expect instant everything.
But the situation in which we find ourselves,
at the end of an era, with the earth over-stressed
and the people of the earth equally stressed –
and two political conventions in the next three weeks –
needs steadfast, engaged, patience
(which is a form of hope-in-action)
to get us through the transformation.
As Wm. Shakespeare observed,
How poor are they that have not patience!
What wound did ever heal but by degrees?
Our wounded world doesn't need a quick fix;
it needs steady, consistent, tender healing.
And Arnold Glasow reminds us,
The key to everything is patience.
You get the chicken by hatching the egg,
not by smashing it.
Attentive, active, endurance –
can we hang in for the long term?
Choosing
We choose every day how we want to live.
We choose.
Choose life–only that and always.
And at whatever risk.
To let life leak out,
to let it wear away
by the mere passage of time,
to withhold giving it and spending it
is to choose nothing.
                                         Sr. Helen Kelley
Text © 2016, Andrea La Sonde Anastos
Photos © 2015, 2016 Immram Chara, LLC
[NOTE: Maize Mother is available as a card for Lughnasadh. You can order them
HERE
. The code number is below the photo.]