These ponderings originally appeared one per day via MailChimp. 
This weekly version keeps them in one place for people who missed the daily postings.
If you would like to sign up to get them daily, contact me HERE.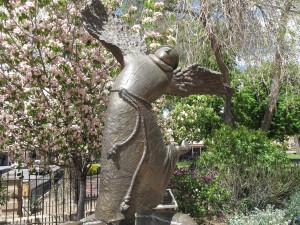 Spreading Happiness
This morning we leave Maine on our way (by car) to St Paul, Minnesota.
We will stop tonight near Niagara-on-the-Lake – home of the Shaw Festival, an almost over-whelming excess of plays running night and day in repertory in six or seven theatres of varying sizes.
The Festival features work by George Bernard Shaw and his contemporaries, as well as plays and musicals about that era, and it proved a wonderful way to introduce our daughter to live theatre during her childhood summers.
Yesterday one of my favorite quotes from Oscar Wilde made me laugh out loud in the middle of packing. He wrote,
'Some cause happiness wherever they go;
others whenever they go.'
Slowing Down
Some creatures among us know how to take it slow.
This is a skill most humans need to cultivate with some intention.
We saw this turtle during a pause in our travel yesterday
and it reminded us that the point of life
is not to get through it as fast as possible,
but to enjoy the journey.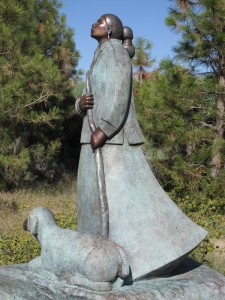 Journey
For me, a journey is never just a trip from point A to point B. It is always laden with memories, with internal thresholds, with horizons that beckon and visions that inspire or challenge.
And so I offer you this meditative blessing, written over two years ago, to companion you on your journey — whether it is today or tomorrow or a year from now.
Call me on the journey out into blessing;
fold me in, into Living Blessing;
shape me to be blessing for those who are struggling to hope.
Call me on the journey out into faithing;
fold me in, into Living Faith;
shape me to be faith for those who doubt anyone cares.
Call me on the journey out into questing;
fold me in, into Living Questions;
shape me to ask the questions that will change the stories
of prejudice, hatred, violence, despair, and oppression.
Call me out and call me in. . .
to meet, to reveal, to become
immanent-transcendent holiness.
[The photo is Apache artist, Allan Houser's, sculpture,
Raindrops
, in the Denver Botanic Garden.]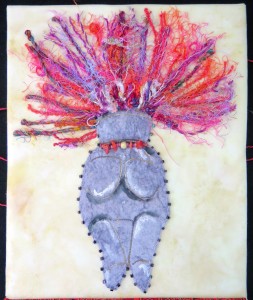 Partial Reality
I am really trying to stay focused, grounded and intentional about my life, but I have to be honest and say that I am not 100% sure it is working as well as I had hoped.
So I was heartened(?) amused(?) comforted(?) by some anonymous words I found scrawled on a slip of paper in my commonplace book.
The quotation read:
'Reality is the leading cause of stress for those in touch with it.'
Ordinary Miracles
I walked into a perfectly ordinary (not gourmet, not specialty, not ethnic) grocery store with my daughter yesterday and saw this amazing Jackfruit.
I stood there looking at it surrounded by coconuts, limes, mangos, pomegranates…and behind them shelves laden with fresh fruits and vegetables from countries around the globe.
And I was startled at how easy it is to take it all for granted.
Let's not.
Today, let's notice the unbelievable miracle and beauty and wonder that is life in this country, on this planet, at this time in history.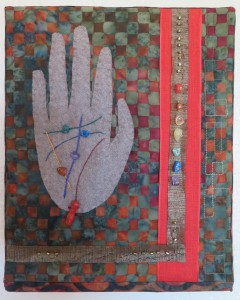 Fix-Able
The temptation to believe that someone or something else should fix all the things that are wrong (or uncomfortable or distressing or fearful or irritating) in my life is one of the most seductive of temptations.
The author Dorothy Gilman reminds me that while tempting, this attitude is a non-starter. She puts it this way,
'There are no happy endings, only happy people.'
May you find your core of happiness today.
The Best We Can
Let's start today with the absolute certainty that we are doing the best we can.
You and I are each doing the very best we can every second of this day.
Everyone we meet is also doing the very best they can.
Because if we could really do it better, we would be doing it better.
This doesn't mean we can't grow and change or that we shouldn't grow and change (or become more skilled or less angry, or more confident or less resentful). And if we practice, we will perhaps handle things differently tomorrow or the next day.
But: right now, right here, we are each doing the best we can.
So when you are beating up on yourself 3 minutes from now, take a deep breath and repeat after me, "I am doing the best I can."
And quit the beating up on yourself.
Text © 2016, Andrea La Sonde Anastos
Photos ©  2014, 2015 Immram Chara, LLC