Fit-less
Is anyone else as amused as I am to watch someone drive around the parking lot at the Fitness Center three times until s/he finds a parking space right beside the door?
Makes me wonder what my (invisible-to-me) conflicting values are…
Chance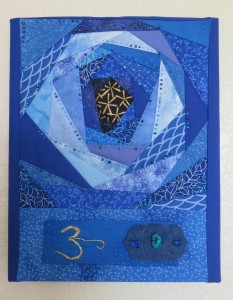 Life is a chancy business. Literally.
However, I noticed an interesting pattern the other day as I was writing in my journal.
I noticed that when something negative happens, I immediately start an internal dialogue about how I could/should have done things differently thus preventing the negative event. [It wasn't chance; it was my fault.] On the other hand, when something positive happens, I attribute it to pure luck. [It wasn't my wisdom or careful planning; it was chance.] If you do this too, we both need to quit it!
Apologies
I came of age at the same time as that iconic sentence, "Love means never having to say you're sorry."
Having just celebrated my 30th wedding anniversary, I would observe that it doesn't seem to apply to marriage.

(Non) Habit-Forming
We can learn from observing the wisdom and the mistakes of others, we can even find our own rhythm and celebrate our own way of doing things, but we need to pay attention to the tendency to live habitually.
As Kate Roiphe warns,
"One cannot fall into 'meagre repetitions,' one cannot live automatically, one cannot simply live the way everyone else is living: one has to have constant energy, constant imagination…because one is making up a life as one goes along."  (Uncommon Arrangements)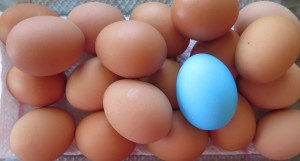 Unplugging
Annie Lamott said it brilliantly (she has a way of doing this frequently):
"Almost everything will work again if you unplug it for a few minutes, including you."
At-One-Ment
As an antidote to some of the self-referenced rhetoric all around us, I offer this prayer from 2014 and invite us to celebrate our part in the cosmos.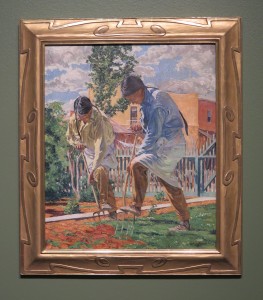 I have been called out of the earth to walk in beauty.
I have been commissioned a steward of the bounty and beauty of creation.
I am nurtured by the gift of lives given to sustain my life.
With the whole cosmos I dance the great cycle of life:
womb-dark to light to tomb-dark,
birth to death to birth,
sustainer and sustained,
receiver then giver then receiver again.
In these days of breathing air, walking in sunlight, drinking water,
may I be the power of healing,
may I be blessing and hope,
may I be a vision of future glory,
may I be gentleness in the present.
May I be so. May I be so.
[The photo is Walter Ufer's painting, The Garden Makers.]

Tithing
If the Universal Mind-Heart-Spirit-Power (or G-d, if you prefer) decided that tithing its abundance was generously sufficient for the purpose, where would any of us be?
Text © 2016, Andrea La Sonde Anastos
Photos © 2015, 2016 Immram Chara, LLC
NOTE: The fiber art piece with 'Chance' is Brow Chakra from my recent series of seven chakras. It is the node associated with truth-telling (as opposed to illusion). It is available — as are all the chakras except Heart Chakra — through my Etsy shop.