These ponderings originally appeared one per day via MailChimp. 
This weekly version keeps them in one place for people who missed the daily postings.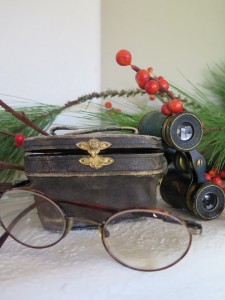 Clarity
Some of you may have seen this on my Facebook page two weeks ago. If so, I beg your indulgence.
If there is anything this political Primary season is teaching us, it is (in the words of Rabbi Nachmani as found in the Talmud)
"We do not see things as they are. We see things as we are."
There is no way for human beings to be purely objective, but I am reminded again and again as I read editorials and listen to stump speeches that hook me emotionally, that I need to find ways to be more objective…even a little more would help.
[The photo today includes my grandmother's opera glasses. Although, to be honest, I don't think my grandmother attended an opera even once in her life…]
Hope
In her new book, Rising Strong, Brene Brown says, "Hope is not an emotion: It's a cognitive process…"
She goes on to say that hope requires three things: the ability to set goals, the persistence to pursue those goals, and our conviction that we have the agency to accomplish them.
The idea that hope is not a passive wish, but a learned skill, a learned way of being is startlingly empowering, I think. How many of the world's ills could be resolved if we conceived of hope as the bridge we build between where we are and where we yearn to be?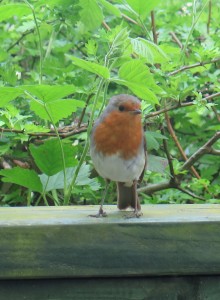 Spring Herald
The seasons here in Denver are only slightly confused – with temperatures rising and plunging like a roller coaster.
Some springs I am focused and attentive, others I am running on auto-pilot. I am trying to be mindful this year, trying to be grateful for the most 'ordinary' spring heralds.
I was never a big fan of robins until I met the cheeky English variety, so completely different in affect than their larger American cousins.
Here is one who shared our lunch at Newgrange last spring.
Overload
A free day, a completely open and unscheduled day, a day for kicking back and reading nothing but mind candy, became (in 30 minutes and three text messages) a totally booked 12 hours…and I went into something approaching meltdown.
About a mile down the road in the car, I turned to my beloved husband and practically shouted, "There is too much life in my life!"
I'm recovered enough to wish you a "just-enough-life-in-your-life" kind of day.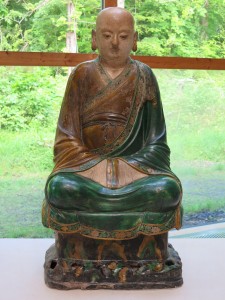 Doing Nothing
I am indebted to the marvelously funny life coach and writer, Martha Beck, for my new favorite expression: multi-shirking — which she picked up from the brilliantly on-point Dilbert creator, Scott Adams.
'Multi-shirking' is the form of paralysis into which the mind and heart descend when we shot past overwhelmed a week ago and just kept powering forward.
There is an antidote: doing nothing. That would be nothing at all. 
If that thought terrifies you, practice helps. [I say this from personal experience.] Stop. Make a cup of tea/coffee/hot chocolate/chicken broth. Sit in a comfortable spot. Sip the cup of [fill in the blank]. Do not answer a text and sip. Do not read and sip. Do not type and sip. Do not journal and sip. Just sip. Sit. Breathe. Repeat at least once a day.
Let me know how it goes.
[The photo today is a louhan (perfected being) from the amazingly refreshing and eclectic Burrell Collection in Glasgow. Please note what the louhan is doing.]


Healing to Share
The fiber art I make is not intended for a museum (although I would be perfectly happy to have some hanging in a museum). Each piece is intended to be a companion on a spiritual journey or through a life transition or during a challenging time.
I have come to believe that at least some of them are intended for people who may not even know they exist. And so I ask your help.
If there is someone in your life (including yourself) who you feel would resonate to this piece, please let me know. It you would like to know more about the heart chakra, you can read about it HERE.  I would like to offer it as a loan or gift from the universe through me to a person who needs this particular energy at this time in their life. Please send me your name and the person's situation — just a sentence or two about why you think they may benefit from the loan or gift of this piece. I only have one of these, so if I have more than one request, I will need to make a choice.
If it needs to be shipped, I ask that you pay for shipping. I will include a note that indicates it comes to the recipient courtesy of your request. I also ask that if you take it for yourself, that you use it for as long as you need and then either pass it along to someone you know who may need it…or return it to me so that I may pass it along. (I will include this request with anything I ship as well.)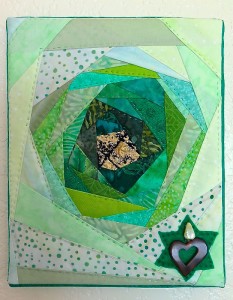 UPDATE NOTE: This piece was requested by a Reiki practitioner who uses a heart image in her practice. The piece will hang in her studio and she will loan it to clients who need it for a period of time. It could not have found a better home. I had envisioned one person using it — what blessing to know it will be used by many.
Strange Gifts
God sends the rain on the just and the unjust. But when you are standing in a hurricane, how do you know which you are?
Text © 2016, Andrea La Sonde Anastos
Photos © 2015, 2016 Immram Chara, LLC
NOTE: If you haven't stopped by my Facebook page recently, please do! And if you are willing, please like the whole page (and the current post)…and share them with friends. I would appreciate it so much.