These ponderings originally appeared one per day via MailChimp. 
This weekly version keeps them in one place for people who missed the daily postings.
Welcome Equinox
Welcome to the lovely moment on the balance.
Welcome to the fulcrum.
Welcome to the vernal equinox.
May you carry this blessing with you today and as the weeks pass between now and the start of Beltane on 1 May. It is written for you to use each morning when you rise: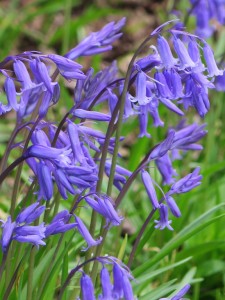 Twine me in the
protection of the nine blossoms
of the vernal equinox:
the generosity of warming earth,
the balance of daylight and dreamlight,
the heat of nearing sun,
the fertility of seed,
the coiled strength of shoot and sprout,
the health of early harvest,
the beauty of brightening color,
the delight of passion,
the joy of dancing wind.
Nine blessings
to draw me from bud
to leaf and flower.

Seed Dreams
For a gardener, The First Day of Spring isn't a date on a calendar, it is the moment when you begin to choose this year's seeds and plants…and begin to dream of the joy of warm soil, neat rows, the first crop of lettuce or radishes.
It is that euphoric time before the idea of weeds intrudes.
Deserving
"What did I do to deserve this?" is a very different question if you are looking at a marriage proposal or a crumpled fender.
Good Enough
I spend way too much of my life looking for the perfect answer. And looking for the perfect answer can stop me in my tracks.
I am trying to learn that if I am standing in the grocery store paralyzed by the choice, "Local, but not organic? Organic, but not local?" I need to just flip a coin, to choose and move on… Sometimes good enough is good enough.
Remembering
It has been one year since my friend Lori left this life.
It is a day for tears, but beyond the tears, it is a day for gratitude.
My life is so much richer, funnier, more interesting, more creative, because her life intersected with mine.
She brought out the best in me.
May your day be a day of gratitude for the people who have been 'Lori' in your life.
Worthiness
Illusion requires so much maintenance.
I want to lay down the burden of a persona that needs constant attention, dressing up, polishing, refining, embellishing, improving.
I want to lay aside – just for this breath – my anxiety about being worthy.
I want to rest in my true self. I want to rest.
I want to celebrate who I really am in all my imperfect quirkiness.
Let's each take today to cherish — and rest with — the irreplaceable person we live with every second of our life.

Gratitude
For some of us, today is Easter and the promise of new life arising.
The universe shimmers with that promise and gratitude is the only appropriate response.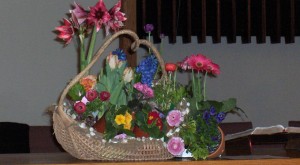 So:
For sunlight overflowing into the long darkness – thanks.
For love welling up, sweeter than sap in maples – thanks.
For cherry blossoms stubbornly opening against the snow coat – thanks.
For mist and rain and fog and melt and a puddle or two – thanks.
For the smell of awakening earth and the wild urge to plant seeds too soon – thanks.
For images nudging and nagging and seeking incarnation – thanks.
For buffeting winds and hair in my eyes – thanks.
For down becoming feathers – thanks.
For old friends coming out of hibernation – thanks.
–Andrea
Text © 2016, Andrea La Sonde Anastos
Photos © 2015, Immram Chara, LLC
NOTE: The fiber art piece that accompanies "Remembering" was created during my 21 Day Art Journey. It was Lori's favorite installation of the Chihuly display at the Denver Botanical Garden. The money from its sale went to the National Foundation for Transplants (NFT) in the hope that no one else will die waiting for an organ transplant.