Yes, Yes.  I know it's Saturday,
but this is a Wednesday-type reflection
so we are all going to pretend it is Wednesday.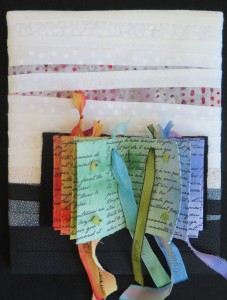 Flipping through a magazine in a waiting room recently, I saw an article titled something like, "The Real Science Behind Star Wars". I didn't get to read it because my name was called…and then I was moving at a brisk pace through the rest of my day. But something about those words snagged along the edges of my memory and catapulted me back several years to when my father had recommended a book called Art and Physics by Leonard Shlain, the theory of which is brilliantly captured (not surprisingly) at http://www.artandphysics.com/ :  Shlain proposes that the visionary artist is the first member of a culture to see the world in a new way. Then, nearly simultaneously, a revolutionary physicist discovers a new way to think about the world… [Shlain] juxtaposes the specific art works of famous artists alongside the world-changing ideas of great thinkers. Giotto and Galileo, da Vinci and Newton, Picasso and Einstein, Duchamp and Bohr, Matisse and Heisenberg, and Monet and Minkowski….
Visionary and revolutionary. Samhain is the season of dreams and visions. In the lengthening darkness when our circadian rhythm shifts and many of our fellow creatures are slowing down or hibernating, we humans are beckoned more deeply into our right brain with its amazing vocabulary of symbols, of images, of vibrant possibilities, of myriad options, wild juxtapositions, magical and mysterious visuals, mythical beings both terrifying and transforming. We are nudged by the cycle of the universe to become, ourselves, both visionary and revolutionary.
I am as prone as anyone to be co-opted by the rational and the reasonable, by the practicality of daily life. Most of those who knew me for the first 50 years of my life would put me firmly in the left-brain-dominated half of humanity. Perhaps this is why it took me so long to be willing to refer to myself as an artist; I 'knew' that I was not given to wandering around in my right brain.
Except, as it turns out, I was. I was always given to playing in that place-without-words; I can see repeating periods of that mystic manifestation again and again as I skim back through the years of my life. The world just didn't choose (or know how) to reflect that part of my image back to me. Perhaps others didn't take it seriously because I didn't.
Yesterday I had the privilege of attending the Denver Art Museum's amazing exhibit, Andrew and Jaime in the Studio featuring the work of the Wyeths (father and son). Although they demonstrate the same brilliant skill (passed down, perhaps, in the genes from N.C. Wyeth – Andrew's father), they are totally different in tone and subject matter. As I walked from piece to piece, I was swamped by envy. I envied the fact that it never occurred to either of them to spend their life creating anything but art. They each knew themselves as 'artist' from middle childhood. I, on the other hand, have had to learn to name the art in myself over almost six decades.
But as I have reflected on the experience in the twenty-four hours since I left the museum, I realize that while not all of us are life-long artists, most of us possess aspects of that artistic vision. And our seasonal vocation every Samhain is to spend some intentional time there. Every time we circle back to this quarter, we are called to release ourselves into our dreams…and then we are called to incarnate those dreams in some visible way.
Mary had a dream of a world of justice where the hungry were filled with good things, where the promises of G-d were revealed, where blessing was birthed and nurtured with every breath. And she brought forth a son and raised him in that vision. And the world will never be the same.
You and I have dreams as profound (and simple) as Mary's. You and I have a whole vocabulary of images and symbols and myths that are the resources to strengthen and sustain us in offering those dreams to a world eager for hope and grace and joy. You and I have received the invitation to bring those dreams to life – in whatever form we have the skill to accomplish. These days leading to the winter solstice give us the space in which to tell ourselves those dreams again and again until they become real. Remember The Velveteen Rabbit or Mary. We – like Mary – have the power to create the reality we imagine.
May this blessing inspire us both to do so: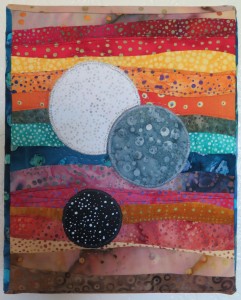 May the quiet of an ancient night flow into our hearts;
may the stars beckon our spirits into the yearning of heaven;
may the moonlight of winter wrap our visions in the lace of tree shadows.
May all that needs incarnation in us, be born;
may all that needs voice in us, be sung;
may all that needs illumination in us, be shown.
–Andrea
Text © 2015, Andrea La Sonde Anastos
Photos © 2015, Immram Chara, LLC
NOTE: Between the Lines and Arcs and Orbs are from my 21-Day Art Journey. Raven by Jamie Wyeth is from the DAM Wyeth Exhibit.