[Yes — this is a day late. Life happened.]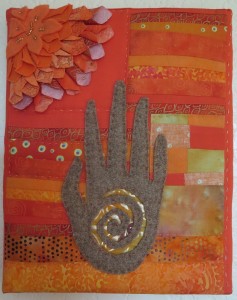 There was a little hiatus in our tidying process during my 21-Day Art Journey and then our week with our daughter and son-in-law in St Paul. In fact, I wondered if the pause would drain the energy and momentum, whether we might just stop part-way through and be poster children for what happens when one doesn't follow the instructions.
Turns out that it isn't true for us, at least. Yesterday I realized that I was itching to move forward with the next stage: kitchen. If you have not read about 'tidying up', you may want to check out earlier posts (See (in order): Tidying Up, To Have or Not to Have, Labor(ing) Days, and Role-ing Along). In the last of those four, we were partway through the books and files stage. The books and files we could do jointly are now done, and I am working through the rest myself. [Just as an aside, I was feeling particularly unsettled because it appeared that I had lots more 'stuff' for which I needed to make decisions than my husband did. I was trying to get my head around the disconnect between my belief that I travel through this world lightly-burdened, and the reality of the 'more stuff', when I realized my beloved has an off-site office. Hmmm. Marie Kondo says nothing about off-site tidying.]
But starting the kitchen (dishes, cooking things, entertaining paraphernalia, etc) has been yet another interesting revelation.
Backstory: In my first marriage, I was responsible for a lot of entertaining. Even though we lived in a one-bedroom New York apartment, we routinely had 8 – 12 people for dinner or parties. 'Bonding' is an understatement. When that marriage ended after 10 years and I remarried two years later, my (now) husband and I became co-ministers serving with a congregation that had no office or meeting space. The church was just the sanctuary. So, the Parsonage (our home) was also our office and the place where every class and most meetings took place. Lots of 'entertaining' was necessary since we routinely had 8 – 12 – 18 folks in our space. And by 'routinely', I mean two or three times a week.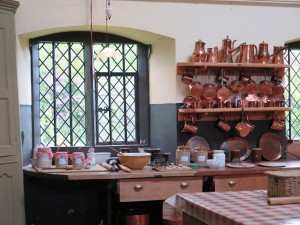 The Present: I seem to be unable to resist acquiring bread pans, cookie sheets, mugs, insulated coffee jugs, and serving platters. Every 15 months or so, I go through and weed them out and the next thing I know, new ones have taken up residence…because I have not yet fully embraced the role-shift and reality-shift in my life. The truth is, we entertain two or, at most, four people at a time now, so 8 serving platters of various sizes are really not necessary. We do not give boxes of Christmas cookies as Christmas gifts any more – half our friends are gluten-free and the other half are on a diet — so 6 cookie sheets and storage boxes for 14 – 18 dozen cookies are just taking up space in our tiny kitchen.
Equally, I discover I do not need 8 (!) pounds of unsweetened chocolate for those same Christmas cookies, or the box of esoteric spices I bought across several adventurous moment(s) when I thought I might alternate between Japanese sushi, Moroccan tagine, Indian curries (3 different varieties), and Indonesian peanut something-or-other on a regular basis. I am not cooking like that now that I am focused on fiber art and, frankly, I am at an age when I would prefer to go to a good Japanese (Moroccan, Indian, Indonesian) restaurant and we can afford to do that from time to time. I am not a poor college student any more and it is time I gave up that lingering identity.
And, although Marie Kondo seems to think that we are going to have a 'joy' response to a cupcake tin which might help us separate it from (say) a bread pan, I find that I don't. On the other hand, when I want to make muffins, I don't want to try to substitute the bread pan for the cupcake tin…or vice versa when I want a quick bread. So we are compromising: We are allowing ourselves to keep things that we use on a regular basis (whether they are joy-inspiring or not) and getting rid of the rest.
So, if you are planning to engage in this process, don't get discouraged. Sometimes rules are meant to be wiggled around the edges. The point is to be in a place of sufficiency and sustainability and my husband and I are getting closer to that with each stage of the journey.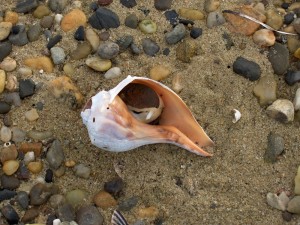 With holiday gift-giving on the horizon (and the probably arrival of many more items in your life), this might be a good time to consider your own trailing history and the flotsam and jetsam it has washed up onto the shores of your life. Maybe some if it needs to wash out on the next tide. It certainly needed to in our life – and we aren't done yet.
–Andrea
Text © 2015, Andrea La Sonde Anastos
Photos © 2015, 2009 Immram Chara, LLC
NOTE: There are several new fiber art pieces in my Etsy shop. And some new posts on my Facebook page (Immram Chara). If you have the time, I would be so grateful if you would 'like' the page. I am hoping for 100 Likes before Christmas.