And so we come to the end of an amazing 21-Day Journey…at least amazing for me. This was the most challenging week of the three — line turned out to be trickier than I had anticipated. The learning curve kept going and I see it stretching out before me as I resume a more 'normal' schedule. Here are the last (re-)learnings that I have been able to process. I know that there are more seeds of wisdom that have yet to make themselves conscious:
'Waiting for inspiration' is a much over-rated activity.
I cannot sew triangles to save my life!
Organic lines make me smile; finicky straight lines drive me crazy. I don't think I managed one in the whole three weeks.
I am surprised at how instantly you knew a piece belonged in your life. And there was only a single duplicate (when someone wanted a piece already purchased by someone else). It's as if they were created for one person.
Each of the three weeks evoked different emotional responses in me…and the pieces reflect that as I look at them in a group.
Having companions helps when it comes time to take a big risk.
Try it. Just try it. The worst that will happen is it won't work. So try it.
It is clear that the skill of attaching art to canvas depends on a small blood sacrifice (every time!) to the gods of staple guns.
Here is the last week in its totality.
PLEASE NOTE: There are still a few pieces that have not been claimed. From Week One, 'The Art of the Fan' is available for $40.00. (You can see these here.) From Week Two, 'Woven Together' ($35.00). (You can see these two here.) From this week, 'Soup Line' ($35.00), 'Life Lines' ($45.00) and 'Between the Lines' can be commissioned for $55.00.
If you are interested in one of these, please contact me here . I want my subscribers to have first chance at this work; what remains will go to my Etsy shop at a higher price. 

Day 15 Colorado Time (NFS)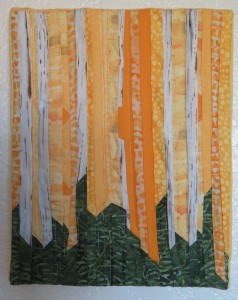 There is a stately progress
to autumn in New England.
The hardwoods take
polite turns
flowing out of green
into red-orange-yellow-umber.
Colorado autumn
is brash and sudden
like rodeo bullriders:
summer is on…
and then it's off.
There is one golden moment.
Don't blink.
Day 16 Story Lines (Sold)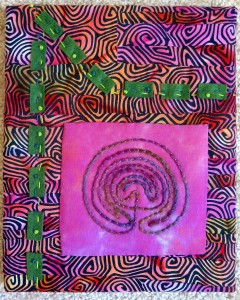 The fairy tales have it right:
after the trip down the birth canal,
life is rarely straight and narrow.
Inward or outward
is just one surprise after another.
We just need to keep breathing
and keep moving forward
because
we are never lost –
we are exactly where we are.


Day 17 Playing the Angles (Sold)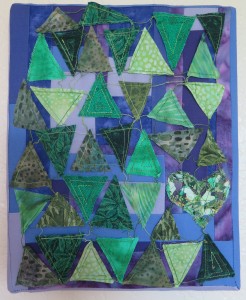 They say that
life is about playing the angles,
getting ahead,
staying strong,
going for the gold every time.
Sometimes
(by luck or wits)
you play the right angles…
And sometimes
they're all wrong.
So, isn't it good that
the heart doesn't have angles?
Day 18 A Tribute to Lori (Sold)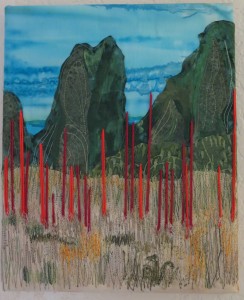 Lori Rosenkvist was the person who introduced me to the amazing art of Dale Chihuly on a visit to the Minneapolis Institute of Art. Her health prevented her from coming to Denver for the Chihuly installation at the Botanic Garden in 2014.
She was able to share it with me vicariously hrough the photos I took and posted to her and my reflections on the juxtaposition of the art with the landscape.
This particular piece was one of her favorites. The strong vertical lines made it the perfect choice for one of the pieces in this week about Line.
Day 19 Soup Line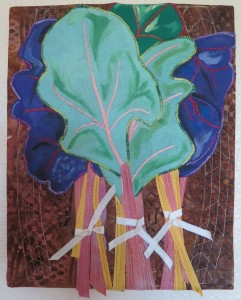 I love the architecture
of vegetables and fruit,
of nuts and grains.
Who thought up these shapes:
the puffed, frilled, serrated arc
of chard leaf?
the ridged shell of walnut?
the tufted head of wheat?
And the colors and textures?
Surely flat or square or brown
would have been enough
to get the job done.
Instead: gratuitous beauty.
Talk about grace!
Day 20 Between the Lines (NFS)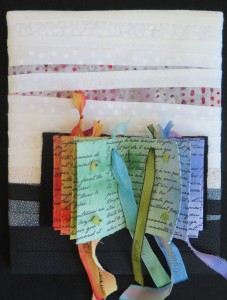 Between the lines are
all the stories that
have not yet been told,
all the alternate universes
waiting to be dreamed.
Between the lines is all
the love unspoken,
the visions uncast,
the hopes unrealized.
Between the lines are
infinite possibilities.
The lines contain
useful knowledge, practical advice,
all that we know.
Between the lines is
everything else.
Day 21 Life Lines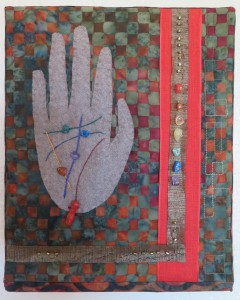 Our palms are crossed by lines
distinct as fingerprints,
formed in utero.
Some people give them names:
life, fate, heart, head, health.
Some find them predictive;
some, reflective, as life alters them:
deepening some,
losing other in scars or burns
or accidents.
And sometimes we are blessed
to have them reshaped
deep in the cells
by vocation accepted.
Next week: I'm visiting my daughter in St Paul
and giving my fingers a rest.
–Andrea
Text © 2015, Andrea La Sonde Anastos
Photos © 2015 Immram Chara, LLC