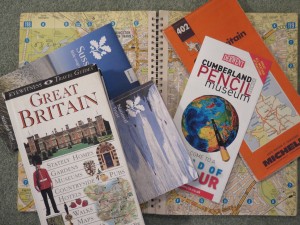 …and time. When emergency medical technicians or paramedics respond to the scene of an accident, one of the first things they do with the accident victims is to ask them a series of questions to ascertain whether they are still in touch with reality. The term that is used is "oriented times three." A person needs to know who they are, where they are, and what day of the week it is (or the month or the year). The answers to those questions determine whether the medical personnel can trust what the patient says and, therefore, whether the patient is in any condition to make decisions regarding his or her care.
A few blogs ago (see: Good Intentions), I mentioned that I had promised my husband that a substantial number of the guidebooks and maps that have been traveling with us would be left on this side of the pond. This decision has been reinforced by a funny experience I had just before we left Edinburgh. We try to take time apart when we are on sabbatical, so I had planned a day of exploring several museums: The Royal Museum of Scotland, a National Trust property, and the Museum of Antiquities.
To begin with, the Royal Museum is now the National Museum of Scotland. The name changed during the 18 years since our last visit. There is a new wing which is truly stunning, with amazing exhibits, and I lingered there a long time. It was a rainy day (what else?), so I wanted to pinpoint the exact location of the Museum of Antiquities before I started walking. Alas, the woman at the entry desk of the National Museum said she had never heard of it. The people at the National Library had never heard of it. The people at the Museum of Childhood had never heard of it. Finally, the young man at Tourist Information began to scroll through his computer archives. Turns out the new wing I had just been admiring had been built to house the contents of the Museum of Antiquities (now, of course, closed.) I can no longer trust this guidebook to help me make decisions regarding my vacations. It is no longer oriented times three. It is a guidebook to a different Great Britain.
As I prepare to return to the States and to my 'normal' life, I find myself wondering whether I need to pay some attention to the other guidebooks on my shelves and in my psyche. My guess is that they are all, every single one of them, out of date. They are all, every single one, guidebooks to a world that no longer exists, to a life that no longer exists, to a Self that no longer exists.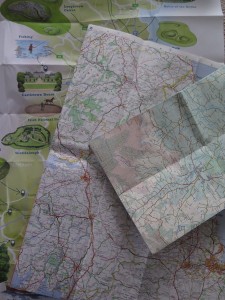 Let me be clear that guidebooks can be valuable aids to many aspects of life – especially to places and times to which we are a stranger (or, at least, not a fully engaged native). But the guidebook is only a modest facsimile, a snapshot of the place, frozen in time. Even between the writing and the publication some things change. But we don't use maps or guidebooks that way (at least, I don't usually use them that way). I don't treat them as an ancient document, but as an accurate description of what is.
I suspect it might be fruitful to lean more intentionally and attentively into the transient, unfolding quality of the world around me…and my self. More than once on this sabbatical, my traveling companion has made a comment about what I like or don't like, or about the kind of decisions I make, or the way I prefer to do things. And I have been moved to say (sometimes rather loudly, I admit) that the last time I actually did that thing that way was 15 years ago. Or that it is true I didn't like [fill in the blank] in my 30s, but I have grown to like it a lot in my 60s. This often leads him to realize that he is carrying an old image of me, an old guidebook to Andrea. (And, yes, it happens the other way, too. More than I have noticed in the past.) He is/I am not 'oriented times three' to the other.
There are guidebooks in my life that have less immediate impact on an authentic life than others. The set of DK Guides I have to Spain and Italy and Australia and Portugal are perfectly useful (even though several years old) for getting a general overview of an area and what I might want to visit. But I am going to need something current if I actually plan to travel there. The less concrete guidebooks to my family members and close friends are much more important. When I allow those to get disoriented and out of date, relationships suffer. When I assume that my sister will make the same decisions she did when she was 22 – and act on that old information – hurtful things happen. Ditto when she assumes I am making decisions based on the person I was when I babysat for her 50 years ago.
And the guidebook of my own life is most important of all. When I let that one get out of date, my spirit withers as I keep revisiting old haunts that are no more than empty shells. I end up telling myself stories that no longer apply to me. I spend much too much time in a fog of confusion, trying to make reality fit with the pictures in the book. I get lost looking for roads (or beliefs or behavior patterns or dreams) that no longer exist.
I invite you to join me this week in taking just one guidebook off your (internal or external) shelves and looking at it more closely. What needs to be updated? If you were going to hand it to a friend to use, what would you need to cross out or add? Where do you need to write notes in the margin: This has moved. This has been torn down. There is a great new café here? Maybe you want to start with one about which you can be more objective. Maybe you actually want to start with a literal guidebook that has been taking up space for 10 years, 15 years, 25 years. Some of them may simply need to be discarded (or sold to the rare book dealer as ancient, historical documents).
Here is my hope for this challenging exploration:
Holy Cartographer,
patiently mapping an ever-changing universe
delighting in changing coastlines,
exploding stars, mountains upfolding,
canyons deepening,
teach me to map my life
breath by breath
with curiosity and wonder.
Catapult me with hope and confidence
into the earthquakes and tsunamis,
that will reshape me in a heartbeat.
Still me into the attentive presence
able to notice the faintest trace of new path,
the first dampness of new stream forming,
the heat of molten rock beginning its upward journey.
Lend me the love
to release what is no more,
to welcome what is,
and to await what is becoming.
Let it be so. Let it be so.
–Andrea
Text © 2015, Andrea La Sonde Anastos
Photos © 2015 Immram Chara, LLC
NOTE: As I write this, New Horizons has proven that it is not (as some feared) lost in space or lost in time. It has become a brand new guidebook to a planet we knew nothing about. It isn't very complete yet, but it is a perfect embodiment of the process of being attentively up to date.