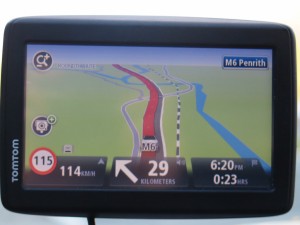 As we are traveling on this sabbatical, we are using a Tom-Tom (GPS, SatNav) to guide us from place to place. It is working just fine and we are – with very few exceptions – getting exactly where we want to go, with a cheerful voice telling us, "In 200 meters, go right around the rotary. Take the third exit, A556 toward Taunton." And our screen shows a lovely graphic of the roundabout, with a brilliant yellow arrow indicating where we enter and where we leave. In the right hand corner is our estimated arrival time and the number of kilometers we still have to travel to our destination. The left hand corner has the posted speed and our current speed. It is riveting. And, had we had one twenty years ago (or even ten), it would have saved buckets of tears and the damage to our collective ear drums from the shouting and waving of arms that went on when I failed to read the map correctly.
I have since learned to read a map quite well, thank you, and the only time I falter is when I am trying to figure out whether that particular farm road is new, or the one recorded on the ordnance survey map. But we decided to use the Tom-Tom when we can because our maps are all at least four years out of date, and my husband really dislikes having to fold them and unfold them, particularly after I have repaired the rips with tape. [He is the kind of person who studies a map, lays out his route, memorizes it and never refers to the map again. So his maps never rip. Okay: it's a sore point.]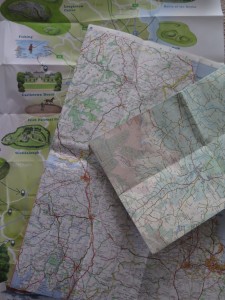 But I was lamenting today that the Tom-Tom shows us such a little snippet of the world that I have no concept of where we are in the greater scheme of things. I am not intimately familiar with the geography of Ireland or England or Scotland. I don't know the spatial relationship between Cork and Kilkenny, or Manchester and Birmingham, or St Andrews and Glasgow beyond a general awareness that one is east (or north or west) of the other. Four days ago, we drove from Stone to Penrith. Aside from knowing we were headed north and slightly west, I had no concept of what we were passing on the way…and what we might be missing.
Were there world-famous gardens? megalithic tombs? villages worth visiting? holy wells? cathedrals? What history might have happened two miles off the road? Did we pass the birthplace of a well-known author? artist? poet? inventor?
As much as the Tom-Tom is saving us from sailing off-course, it is also fragmenting our world. Connections are being lost. In this case, the connections are geographic…but my sense is that we 21st century human beings are experiencing dis-connect in every area of our lives. As we have more and more discrete facts at our fingertips, we are losing sight of the overarching patterns. We are able to see literally hundreds of thousands of trees, but we are losing the emotional, spiritual, and psychological forests of our lives with all their mystery, and their size, and their power…and the interwoven tapestry of flora and fauna, and what that tapestry might tell us about the seasons that have swept across this place, about the centuries-long events that have shaped a particular land (or soul).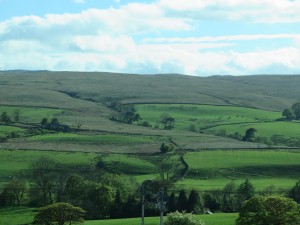 Because I can look up a piece of data whenever I want it, I spend less thoughtful time putting it into a context so that I will actually remember it. I spend less time with the 'why' of events. Why is only deeply discernible if we look at causes, and causes are not always obvious or simple; in fact, they are most often complex and always relational. Technology and speed have a cost as well as a benefit. Because I can tweet or text someone instantly (and get an almost instantaneous response), I am less deliberate about what I want to say and how I want to say it – or remembering what they said, or listening for the sub-text below the surface words. I may get information, but I rarely hear the story.
Over half a lifetime ago I was married to a composer. He observed that you can trace the pace of life by the base tempo of the common music. In western Europe, the standard base tempo during the 9th and 10th centuries (the era of Gregorian chant) was the double-minim – about the equivalent of two whole notes, or eight beats. By the late 20th century, it was the 32nd note, which makes our standard over 250 times as fast as our ancestors' standard a millennium ago. The double minum arcs over long phrases where the relationship between one note and the next is clearly discernible and it is pretty easy to notice a mistake. The 32nd note is so fast that most of us wouldn't be able to discern all the notes in a melody, much less pick out a wrong one. The double minum is intensely relational, the 32nd note is more staccato than melodic to the average ear.
When life is happening at 32nd note pace, it is hard to slow down enough to notice what is being lost in the process. The gift of a sabbatical is having the time to notice. I have noticed that the digital Tom-Tom is a lot faster than the analog map; it is plug and play (put in the address and it calculates your route for you). What is lost is the opportunity to look at alternate routes and ponder whether this one (which skirts the coast) might be more exciting than the highway, or whether this one (which goes through a bunch of small villages) might be full of surprises…and whether I can get from the coast road to the village road anywhere along the journey if I change my mind about the scenery I want to experience. What is lost is the opportunity to see my journey as part of an expansive world.
Toward the end of Act I of Thornton Wilder's play, Our Town, Rebecca Gibbs is talking to her brother, George, and she tells him about a letter one of her friends received from her minister. Rebecca asks, "And do you know what it said on the envelope? It was addressed to 'Jane Crofut, The Crofut Farm, Grover's Corners, Sutton County, New Hampshire, United States of America, Continent of North America, Western Hemisphere, the Earth, the Solar System, the Universe, the Mind of God.'" In the way of big brothers with little sisters, George replies, "Think of that!"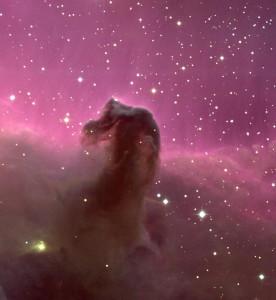 I am wondering if the pace of the sabbatical will help me recreate the habit of remembering that I am not an isolated fragment, wrapped in my own skin. I am woven into a neighborhood, which is part of a country, located on a continent, floating on the crust of a planet, spinning through a solar system, within the mind of G-d. It is a perspective that it is very easy to lose when my landscape is the size of a Tom-Tom screen. I think that fictional minister in Grover's Corners was on to something and maybe we all just need to do what George Gibbs says: to "think of that…"
–Andrea
Text © 2015, Andrea La Sonde Anastos
Photos 1, 2, and 3 © 2015, Immram Chara, LLC
Note: The final photo (the Horsehead Nebula) is © 21 July 2009, Nigel Sharp (NAOA). It is used by permission.