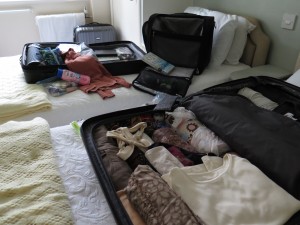 Today we are hovering from Dublin to Holyhead on the next part of our journey. I think of it as 'sailing'; the ferry company thinks of it as 'flying' (presumably since we are not in the water, but over the water.) Since Ireland is our point of departure, I also get to participate in my least favorite part of every trip to Eire – learning exactly to what extent the luggage allowance has changed since we entered the country three or four weeks earlier. This has happened every single time we have come here: the amount of luggage we can bring in via our mode of transport is always less than the amount we can take out – either in number of items or weight, or both. Seriously.
I try not to talk about this because I can hear my voice getting just the teeniest bit edgy. I try not to even think about it until the moment when I need to bring a bag full of items to the local Charity shop because keeping them will put our suitcases over the weight restrictions. Making the selection is its own process of discernment – or so I try to believe in the hopes that a moment of spiritual enlightenment will accompany the literal en-lighten-ment of my possessions.
I also try to tell myself that this is good practice for learning to leave life – because the luggage restrictions (if you will) going out are exactly what they are coming in…Nothing. So I need to practice de-possessing. But, frankly, there are days when I would actually prefer not to receive any kind of spiritual lesson; there are days when I would just like things to be easy and not to have to think about it too much.
But since this is apparently not going to be one of those days, I might as well offer some reflections on what I am leaving behind (in addition to the six paperbacks, one pair of shoes, one shawl, and 4" stack of maps and brochures). However, rather than writing a list, I am going to believe that thing about one picture being worth a thousand words (a thousand words minus the ones I've written next to each picture.) Here are some of the joys and wonders I received from those who were here before me, and I am leaving behind for others to experience and celebrate in days and years to come.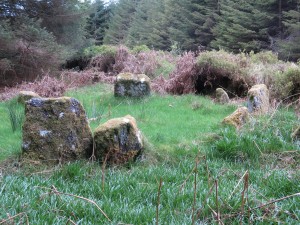 The extraordinary, mysterious, unmarked, unnamed stone circle on a hillside above Toureen.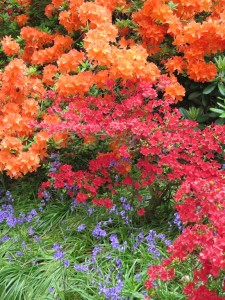 Azaleas abloom (practically aflame) on the grounds of Mount Congreve.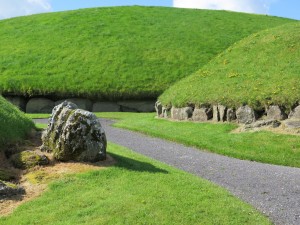 The central passage tomb at Knowth with one of the satellite tombs. We were able to climb to the top of the largest mound (with permission) and see for miles around.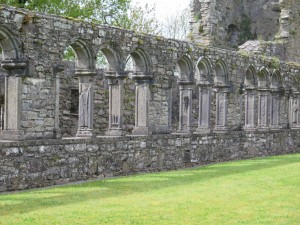 Jerpoint Abbey — The cloisters in the sunlight (well, mostly sunlight; you can see faint shadows on the ground). An almost warm day with a brilliant blue sky (intermittently, of course.)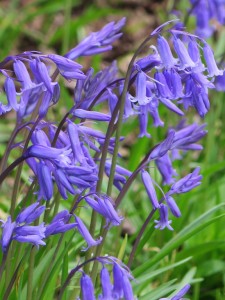 Bluebells which are in bloom everywhere, filling the air with the most heavenly fragrance imaginable.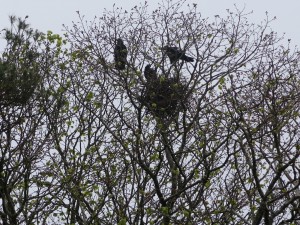 A close-up of a nest in one of the rookeries, visible before the tree has fully leafed out. There must have been 30 nests in this one tree — now I know where all the noise comes from.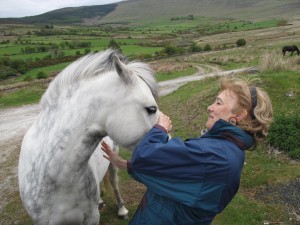 A companion spirit in the great stone circle hunt. So inquisitive and friendly.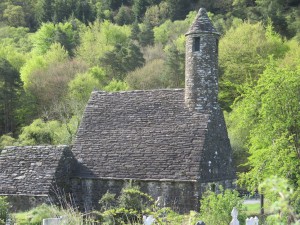 St Kevin's Kitchen at Glendalough — not really a kitchen, but the tower looks like a chimney to some people. Part of the monastic site on the lower lake.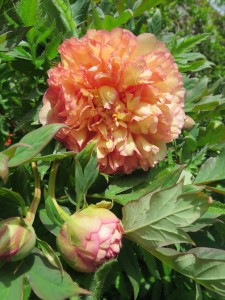 Possibly the most beautiful peony I have ever seen — part of the extraordinary gardens at Mount Congreve just outside Waterford.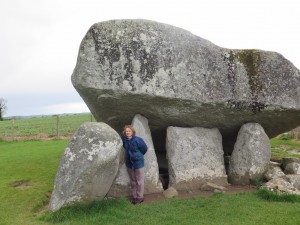 The megalithic Browne's Hill Dolmen — not only sacred, but good for many secular things (like standing out of the rain). The capstone is over 150 tons. Only one of the many many dolmens that dot the countryside, a quiet reminder of the long long long history of people on this island.
As we travel onward, these are just a few moments and images I carry in my heart — small and weightless — from a tempestuous and blessed 22 days.
–Andrea
Text © 2015, Andrea La Sonde Anastos
Photos © 2015 Immram Chara, LLC
Note: Clicking on any picture will enlarge it. Clicking again will enlarge it further.