Beltane can come as a somewhat discomforting quarter in our staid, puritanical 2ist century northern hemisphere cultures. It is the season of fertility in every area of life; all the rituals and traditions associated with it are intended to honor the fertility of the earth and to insure the fertility of crops and herds through metaphor, through symbol, and – in former days – through exuberant procreative re-enactment. Pictures of young girls in pretty dresses dancing complex patterns around the May Pole are so domesticated that most of us miss the point of that dance entirely. In ancient times, it would not have been done by pre-adolescent girls.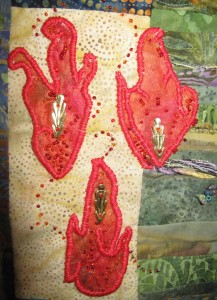 Beltane is about new life, but also about the (sexual) energy and passion that create new life…represented by fire. At Beltane. the bonfires lit from the nine sacred woods are used to rekindle the hearthfires in every home (bringing fertility to the home, as well.) In Eire, which we are calling 'home' for the next three weeks, the fire lit on the hill of Tara was the bonfire from which all others were lit, in a spreading circle across the land. We are on our way to the summer solstice mid-quarter and we are honoring the strengthening of the sun in its annual journey toward longest day.
However uncomfortable or unsettled you may feel about the deep connection of sexual energy and spirit, this is the season that weaves those two aspects of our humanity together, warp and weft of our human being. For many of us raised in the Christian or Jewish or Buddhist traditions, we are more likely to have been taught about the separation of body and spirit than about their wholistic connection. [This is especially odd for Christians for whom incarnation in all its messy beauty is an essential component of our faith.] Therefore, Beltane is a season of re-integration, an opportunity each year to reclaim our wholeness, literally to re-member (to bring our parts together.)
If you do not have a meditation space, this might be the perfect season to create one. The colors associated with this quarter are the many shades of green, as well as the fire hues. In this early part of the season, you might begin with a cloth of a light or bright green to ground the space. Add candles — perhaps in red or orange or yellow votive holders to evoke the Beltane fires or tied with gold or fire-hued ribbons. And include a chalice or cup or bowl, filled with earth or water.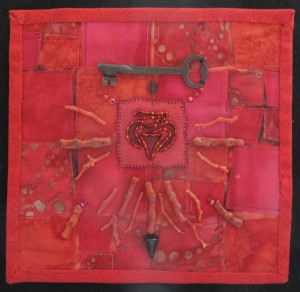 We all possess both yin energy and yang energy: energy that receives and energy that gives forth, energy that invites connection and energy that empowers autonomy, inner and outer energy, energy that protects and enfolds and energy that inspires risk. Your meditation space should evoke the passion that burns with steady flame when all those energies dance together, interweaving in intricate patterns.
I encourage you to gather into your meditation space objects that represent your most fertile experiences and blessings. These may include photos of children or protégés you have borne and/or nurtured. It may include a copy of a book you have written, a photo of a garden you planted, a piece of art you sculpted (painted, sewed, drew), a piece of wood or a nail from a building you erected. You may include photos of friends or students you inspired, or colleagues or teachers who inspired you to risk changing, growing, witnessing.
Include a journal or small notebook in which to record your memories of fertile times: physical, emotional, spiritual, mental, psychological.
Between now and the solstice (or all the way through the season if you are willing), take a few minutes each day to honor your own fertility – your imagination, your creativity, your passions, the heat of your energy. Write down events or experiences from the past which reflect this aspect of your life. Consider, also, the fertile experiences you long to have in whatever area of your life. On the solstice, choose one of those dreams or possibilities to make manifest in the second half of the season.
If the following words inspire you, feel free to use them every day, once a week, whenever it seems right. Or compose your own blessing, invocation, prayer and use that.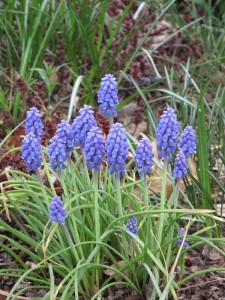 Beltane Life, uncurl me through the fertile darkness,
through the holy ground within,
rich with the compost of sorrows accepted,
joys shared, dreams received, fears conquered.
Beltane Passion, burn into me
with the fire of wide, wild desires stirred,
of visions tempered and honed,
of love welcomed and love poured out.
Beltane Power, whirl me into delighted acceptance
of who I wholly am:
shadow and sunlight, spirit and body,
stability and risk,
journey and homecoming,
inward depth and outward breadth and upward reach.
May the energy of Beltane be strong and compelling this year, blessing you deeply.
–Andrea
Text © 2015, Andrea La Sonde Anastos
Photos © 2014, 2015 Immram Chara, LLC
NOTES:The first photo is a detail from the fiber art piece "Receive (Emerge)" which can be seen in 'My Story' in the Archives here. The second photo is "Root Chakra" from the Chakra Panel which can be seen in the Fiber Art section of the Store here.