Imbolc will end on Thursday at sunset and Beltane will begin with moonrise as the calendar passes from April 30 to May 1. This year – perhaps a coincidence, perhaps not – I will be bidding farewell to Imbolc in Wales on April 30 and bidding welcome to Beltane on May 1 in Ireland, making a literal passage across the waters between those two lands.
As I look back on my own Imbolc, I am profoundly aware of emotional and spiritual unsteadiness which reminds me of the growing pains of adolescence. I am aware that this Imbolc was – for me – a period of tremendous change as my father chose a new environment to welcome and sustain him for the future, precipitating a farewell to the home that was the background to memories of marriages, births, deaths, graduations…so many new beginnings. And it was the season in which my friend, Lori, began a new immram into an existence I am not yet able to experience, a new existence that brought to an abrupt end the color and texture which was her life weaving strongly through my temporal existence. I can look back and see her pattern intertwined tightly with mine, but the shuttle will no longer contain that thread as Beltane opens.
In spite of the losses, I am trying to center myself in gratitude, offering heart-felt thanks for the youthful energy of the spring quarter, as lively and variable as a weathercock in a high wind…and then to welcome the steadier and deeper energy that can sustain the long fruitful growth of the summer quarter.
As I practice making the passage between quarters yet again, I am asking myself
What was the composition of the soil which cradled the seed of my new life this Imbolc? Was it rocky, or over-used, or rich and easy ground in which to break open? What was the compost that had been turned under into it to nurture and sustain healthy growth? [Old experiences take time to break down into good compost – what experiences came to maturity in time to amend the soil of this particular Imbolc?]
What has broken open and begun to grow? Can I even identify the plant, or will it need to grow a little more before I can name it?
What is still trailing behind me from past quarters? What barren places still hold hopelessness or despair? Can I notice them and move on, trusting that time will bring healing or transformation…but learning the discipline of acceptance, instead of pushing and nudging and manipulating?
Your questions may be different than mine, but I urge you to take some intentional time to call them to heart and mind. Write them down. Honor them and your own life cycle by paying attention to their lessons, their blessings and challenges (which are often one and the same.) Then perhaps you would like to say a ritual and formal good-bye to Imbolc. Sunset on April 30th is a good time, but a day earlier or later is fine, too. Given that the seasons of our experience rarely marry up exactly with the seasons of any calendar, a week later may be the right time for you. Here are some words, but feel free to write your own or to be spontaneous in the moment.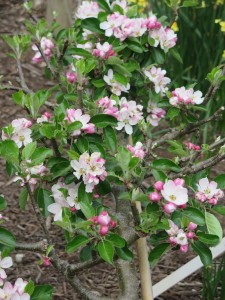 Exuberant Friend,
giddy companion of awakening energy,
restless dance partner
spinning upward and outward,
welcoming alike returning sun and unexpected rain,
drenched in laughter and delight:
my thanks for your companionship
under clear blue skies and
the sudden clouds of Imbolc storms.
My thanks for armfuls of
cherry blossom pink and pansy purple,
for robin-breast red and forget-me-not blue.
May your journey now tumble you north,
scented with delirious blessing.
Fare you well. Fare you well.
and then at moonrise or when you wake on May 1 (or sometime after bidding Imbolc farewell)
Come you in, Passionate Lover.
Come prune and stake your blessing with skillful hands:
strengthening of roots,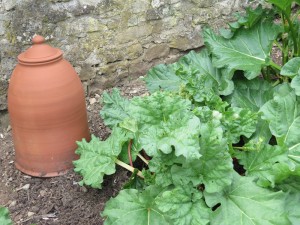 upsurge of growth,
cool shade of leaf,
warming depth of soil,
out-pouring glory of greening,
health of early harvest,
power of decision,
wealth of witness,
steadfastness of hope,
Be welcome in the long light of Beltane,
be welcome to share table and bed.
Come you in!
–Andrea
Text © 2015, Andrea La Sonde Anastos
Photos © 2015 Immram Chara, LLC
On Friday, May 1, the seasons will switch on the website (from Imbolc to Beltane). New pictures will go up in the home slider and blog slider. However, the Etsy shop is joining us on sabbatical – so cards and fiber art will not be available for purchase until the early days of of Lughnasadh — probably around August 5.