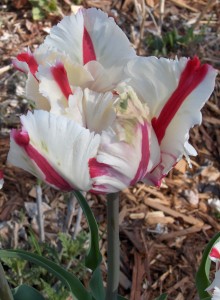 We live both in the reality that our world does not have clear lines in the sands of space or time, and in the fiction that it does. A season starts on a particular day and we welcome it ritually as if we have crossed that threshold completely and cleanly. But, of course, we haven't. We are still enfolded in old energy and sensations as we step into the new season. Indeed, Samhain is still lingering in many places. And it is equally true that although tomorrow we are only two-thirds of the way through Imbolc, in some locales the weather is already leaning toward Beltane: late tulips are already blooming, cherry blossoms are opening, leaves are well along on some trees.
We are living simultaneously this Imbolc – as we live every Imbolc – in the residue of fallow time and flowering of fertile time. And, frankly, it's a mess.
In the Christian tradition, the awareness that life is both 'then' and 'now', both 'now' and 'not yet', is brought front and center every spring in the paradoxical retelling of the horrifyingly messy events of Holy Week which culminate in the equally messy and unexpected experience of Easter. Our Christian sisters and brothers are mid-way through Holy Week as I write this and as you read it. If this is your faith story (as it is mine), you cannot easily ignore the encroaching shadow of death, the knowledge that even those who love one another betray one another sometimes, the terrible reality that good intentions do not always issue in good results, the fact that the desire for familiar perspectives can lead us to cling to stagnant choices, and the fear of change can incite us to violence. So, regardless of how strong the Imbolc life-force is in the physical world around us, inwardly we are feeling the quiet brush of death's wings. And it's an emotional mess.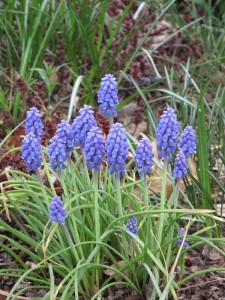 It is also true that however unrelenting the grasp of Samhain may be outside our doors, our hearts are upheld by the promise that death is not the final word in this universe, life renews and unfolds again and again from the silence between breath and breath, that even those who betray one another are capable of love, that hope and health and joy can emerge from even the least inspiring intentions, that courage can beckon us from the familiar to the surprising, and that love can catapult us into transformation that tilts the world on its axis. And transformation is always a mess.
And so we are living simultaneously this Imbolc – as we live every Imbolc – in the promise of death and the assurance of life…which can be a spiritual mess.
However much we may want 'neat', 'contained', 'controlled', and 'predictable', the fact is that birth and death (and love which binds them one to the other) are none of those. They are very very messy. We may want Imbolc to be about crocuses blooming, but in a lot of places it is about tulip buds being blasted by a heavy and late snowfall. In other words, it's a mess. Holy Week is the reminder that our vocation is to learn to dance the warp and weft of existence in the in-between Now. In the messy places. In the messy times when we are looking through the last ghastly moments of Good Friday, trying to glimpse Easter, thinking we are almost there, only to have a friend die, a father die, a mother die, a child die…and to realize we are still on the way, still heart-deep in the whole, holy mess.
Pierre Teilhard de Chardin says it this way: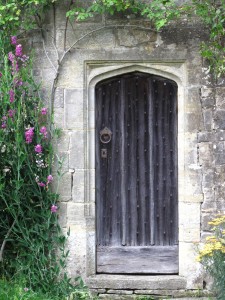 Above all, trust in the slow work of G-d.
We are quite naturally impatient in everything
to reach the end without delay.
We should like to skip the intermediate stages.
We are impatient of being on the way to
something unknown, something new.
And yet it is the law of all progress
that it is made by passing through
some stages of instability—
and that it may take a very long time.
….
Don't try to…be today what time
will make of you tomorrow.
….
[A]ccept the anxiety of feeling yourself
in suspense and incomplete.
And so, in this moment, whether you are Christian or not, I invite you to join me in trying (once again) to trust the intermediate stages, to accept the messiness of 'passing through.' I invite you to join me in trying (once again) to be patient with the journey. I invite you to join me in trying (once again) to trust the slow work and the progress that is happening all around us, that has not failed since the explosion of energy that began this expansion of the universe. I invite you to join me in trying (again and again and again) to trust even as the instability goes on a very long time.
I offer you this prayer-poem about my own desire to have this courage, using the images and language of my spiritual myth.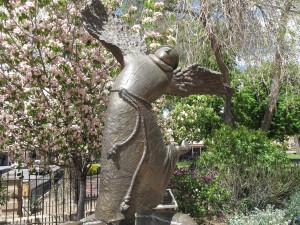 Let this be so, Singer of the Song.
Let this be so, Dancer of the Dance.
Let me feel the pulse and pound of feet
in the distance,
shaking the foundations of my heart.
Let me hear the shouting and singing faintly,
warning me that someone is coming,
that change is coming.
Let me take a breath of peace.
Let me take a breath of acceptance.
Let me be willing to release my expectations
into Now.
Let there be curiosity. Let there be curiosity.
Let there be courage to crack open the door.
Let there be yearning to celebrate what is, what is now.
Let there be abandon to now. Here. Now.
Let this be so. Let this be so.
–Andrea
Text © 2015, Andrea La Sonde Anastos
Photos © 2011, 2014 Immram Chara, LLC