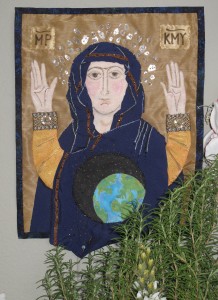 In the autumn of 1986, I was given one of the most important gifts of my life. By a strange confluence of events in the lives of several other people, I was invited to serve on an international ecumenical consultation that changed the heart of ecumenical dialogue around the world…and that changed the whole structure and face of the church in the late 20th century. I have been a representative to that consultation for almost 30 years. I was (for several years) one of only two women to be a participant at the table… and the first woman elected to the secretariat. To say that it shaped my life and my ministry would be to understate its profound influence many-hundred-fold. Quite simply, it transformed me and it set the direction of my work for the majority of my adult life.
Yesterday, I packed that same 30 years worth of notes and files to send to the Consultation on Common Texts archives at Notre Dame University…because I have become very aware watching my father's process of leaving one home to make a new one, that endings should be intentional whenever possible.
I don't really know that I will never attend another CCT meeting, but because of a constantly shifting series of family, financial, and personal circumstances I have missed the last three and I will miss the one held this April because I will be on sabbatical with my husband. Fifteen years ago, the emotional pang of that absence would have been with me day and night. When I realized a couple of months ago that I would be missing the fourth meeting in a row, the quiet question opened in my heart, "Is it time to release this blessing?" Yes, there were tears at the thought, but there was also a sense of fullness, completion, and an urgency to prepare for the next step.
As one of the longest serving members, my handwritten notes across three decades of ecumenical dialogue actually have some value to students and historians (Who would have guessed?) and they should not either languish in my file cabinet, nor should they be lost in my next move, or left to baffle my daughter three decades from now – What should I do with these? But perhaps as important as their value to others, giving up those notes, sending them forth out of my control, is a transforming spiritual discipline for me. It is time for me to open my hands and my heart with intention and love, and allow the natural progression of life to unfold – with my steadfast and enthusiastic blessing. It is time for the next generation or two to take up the task, shape it to the new world in which they find themselves, and carry it forward. And if I am not willing to relinquish power and control with grace and confidence in the future, why do I think anyone else should or will?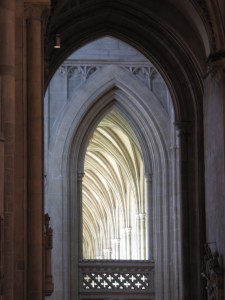 Besides, this bittersweet blessing is, while assuredly bittersweet, also blessing. It is an opportunity to pay attention to the cycles of natural life and how my own life is woven into a larger, wider tapestry. It is a liminal moment to be focused, to be present, in spirit and mind to notice when my part of the pattern is finished, when my thread needs to be tied off so another color and texture can begin. I think of a beautiful oriental carpet my husband and I own. Much of its beauty lies in its intricate design…which depends on this red thread over here, in this section, disappearing so that a black thread can begin the next part of the pattern right there, and the black gives way in its turn to blue or cream. Without that give and take, the whole would be monochrome and monotonous.
Saying Farewell is an essential skill of a mindful life; saying it intentionally is a priceless benediction. Pausing, taking an irreplaceable moment out of my own life and my oh-so-very-important-agenda to participate consciously and graciously with the flow of the universe, stepping aside to make room for new life and a new pattern is the most precious gift I have to offer. We do this most fully in these human, temporal bodies when we make the great immram into death. All the other intentional farewells are just practice.
I have had my share of farewells. In fact, every day is both a welcome and a farewell. Some of the less daily farewells have been forced on me in spite of heel dragging resistance, some have been expected, some longed for; some have left me howling in pain and others have left me breathless with laughter; some have been long in coming and long in recovery and others have passed in a heartbeat. Regardless of weight or speed, the ones that bless me are the ones I participate in with intention. Sometimes I enter them with intention (leaving parish ministry), other times I need to go back and face them all over again with intention rather than panic or fear or anger (my divorce) to receive that quiet gift.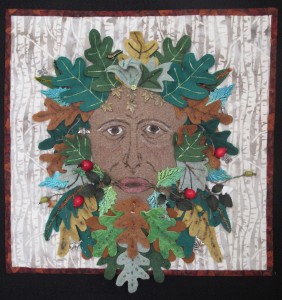 As Imbolc unfolds and, G-d willing, we get to see grass again, it can be wise to remember that we have room for planting and cultivating the new only because something old is gone, turned under, relinquished. I invite you to join me in honoring what is no longer, so that we are free to celebrate the unexpected wonders about to arrive.
–Andrea
Text © 2015, Andrea La Sonde Anastos
Photos © 2015 and 2011, Immram Chara, LLC
Note: The first photo is a fiber art piece, Cosmotokos, which can be seen in the Archives. The second photo is from Canterbury Cathedral taken during our last sabbatical. It is available as a card or print from my Etsy shop. The third photo is Green Man, also available in my Etsy shop.