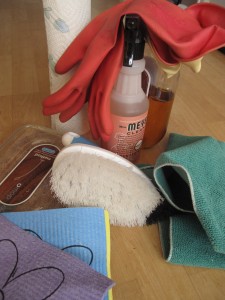 I have been saved from sinking beneath a rising tsunami of meaningful mementos, and (seemingly) important papers, and from terminal despair at the impossibility of ever being organized, by a delightful and challenging little book called The Life-Changing Magic of Tidying Up by a young Japanese woman, Marie Kondo. Before you stop reading this to go read that, let me say a little bit more. I don't want you to be disappointed.
There is nothing in this book that has not been said before by spiritual leaders since the dawn of time…or at least the dawn of clutter. Home organizing gurus have written library shelves full of books that contain 99.44% of this information. And, while the book has taken the world by storm,  it might do nothing for you at all. [Although you might be as startled as I was to discover that it is the number 1 bestseller on Amazon in the (Are you ready?) Religion and Spirituality section.] What I found compelling is Kondo's innate understanding of what material objects mean (spiritually, emotionally, physically) to human beings, and the cultural and spiritual lens she brings to how and why we possess them. Something in my heart and mind went "click" around page 14.
Hold that thought.
As you may or may not remember, my father is one month short of a move from his home of forty years to a two-bedroom apartment in a retirement community about 35 minutes away from his current address. I spent last week in Boston helping him sort through eight file drawers and another 160 linear inches of files that spanned those forty years. In and around shoveling snow, of course, because I arrived just ahead of a storm bringing 5″ and another one bringing 12″ which fell on top of the 74″ they already received in his town. (Talk about tidying up!) He has snow banks 8 feet high on both sides of his driveway which makes it a little difficult to move the new snow out of the way. This is a good metaphor for the files, as it turns out.
Please understand that my father is not a hoarder. He did not keep these files because he had some kind of psychological panic attack at the thought of throwing them away. No, they just gradually accumulated as my mother finished her bachelor's degree, and my father graduated with his MDiv, and the seven years of taxes and the back-up material we are warned to keep for the dreaded IRS audit turned into 10 years or 12 years. Speaking for myself, there comes a point at which I become completely overwhelmed by the feeling that the task of sorting will now occupy the rest of my life so I solve the immediate problem by purchasing another file cabinet into which I off-load the old files to have room for the new ones. Mistake!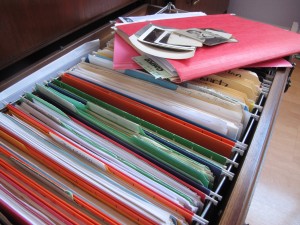 So, this is the first lesson I learned from tidying up all those files (31 grocery bags full of paper to be recycled plus another 64 pounds to be shredded, to be precise): Never buy another file drawer; empty the one you have.
And since I am not (as far as I know) short-listed for a MacArthur Genius Grant or a Nobel Prize, it is unlikely that I am going to be writing an autobiography anytime soon. So keeping my old report cards or love letters from college boyfriends for that reason is a non-starter. Instead, it would be practical and wise to embrace the reality that by the time I actually fill a file drawer with information about my life, my life has changed. The identity I am carefully preserving has morphed into an identity with totally different nuances (and if it hasn't morphed, no one is going to want to read about it anyway!)
The second lesson happened with that "click" around page 14 of Kondo's book. It was a heart-shift of perspective into accepting that it is a waste of energy to relive my past;  I actually need to live my present fully, allowing each moment to fall behind me and celebrating this breath, and the next one, and the next one as they come. Not only my files, but most of my material possessions are memories – they are things I acquired as I lived a day, an experience, an event for the first time. But over time they act as a storm anchor, locking me in place against change. As more and more of them enter my space, my heart, my mind, my care, they become a burden, a backward drag to what is no longer.
Our lives are made easier by a few necessary objects. Having some plates and silverware and glasses is a blessing, but how many of us really entertain enough to use three complete sets of china? This is why my husband's grandmother's set of bleeding blue china is going to our niece and her partner in celebration of their marriage in June – and they are over the moon to have this useful piece of their history to serve them as their tableware. Our lives are enhanced by a few decorative objects, but when was the last time I actually saw the art on my walls? Kondo insists that we should own nothing that is not a delight. Our physical stuff should never be merely a monument to past accomplishments, but a joy in our present. If it doesn't make our heart sing, it doesn't belong in our dresser, our closet, our cabinets, or on our walls, or on our bodies. It should not be taking up floor space or emotional space.
The point of tidying up is not to strip our lives of beauty and comfort, but to pay attention to the beauty and comfort we have. And to feel a sense of spacious wonder and happiness as we pour tea into a favorite mug, or arrange flowers in a perfect vase, or add a silk scarf to our outfit, or reread a book that inspires us again and again.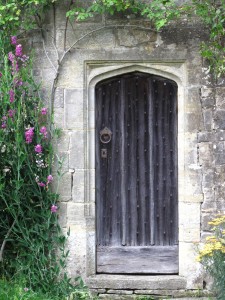 By coincidence, spring cleaning is just around the corner. I intend to be considerably more thorough this year, not only eliminating dust, but shedding objects that long ago became inanimate to me, no longer a grace in my life, but simply one more thing to move around and fill the room I need for breathing.
My father's move is an unending learning curve for me, a blessing I never imagined.
–Andrea
Text © 2015, Andrea La Sonde Anastos
Photos © 2015, 2011 Immram Chara, LLC