A couple of days ago, when I started writing this, if I had stepped outside, I would have been standing up to my armpits in snow with more falling by the minute (I am in Massachusetts, not Colorado)…so the idea of preparing the ground for planting literal seeds from which I expect to reap kale or peas is beyond ludicrous. On the other hand, it is an ideal time to think about preparing the ground for internal crops, for the spiritual, emotional, and psychological harvests I want to gather this year.
If I am totally honest, some of these are harvests I have wanted to grow before: some for a year or more, others for a decade, and one or two for my entire adult life. In some cases, I have even planted the seeds, but been unable to nurture and sustain that particular crop to fruition. Some were seeds I simply didn't have the experience and expertise to grow; others didn't grow because I lost interest, or allowed weeds to take over, or didn't have the courage to thin out — How do you choose which sprouts live and which die? I'm still not sure, but after six decades I know definitively that if I try to grow too many in a small space, they all die – which is a (consciously) unfruitful choice when I make it the fourth or fifth or thirtieth time. But other seeds don't grow because I don't have the internal soil composition for them to develop strong roots and productive shoots.
That can be a blow to the ego (What do you mean my soil composition isn't good enough?) which can lead to dysfunctional coping mechanisms designed to spare my ego. The one I lean toward is to ignore the fact that I am constitutionally unlikely to ever grow those particular seeds, and keep right on planting them for years and years. Some people might pretend they never wanted to grow that crop in the first place; some people might give up gardening altogether. I just assume that if I try harder, or exert more will power, the seeds will grow.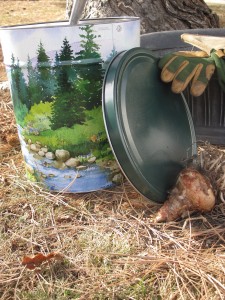 The fact is that while I can amend the soil (and that has been a large part of those decade long experiments in what turns out to be 'not-growing' something lovely), there is a limit to the effectiveness of adding compost or lime. Amendment doesn't solve every problem. Weather affects crops, too; and so does the length of the growing season; and the amount of sun and shade – and which end of the day gets which…all things over which I have no control at all. I'm going to go out on a limb here and guess that some of you have also had this experience and may be at the point in your life when you are just plain tired of doing the same thing over and over and failing to get the results for which you hope.
So perhaps you would like to join me this year in trying something a little different which actually may bring different results (go figure…) I'd like to invite you to wonder with me about what those unsuccessful crops may be trying to tell us. Because if I back away from my "These seeds are going to grow because I want them to grow" (exhausting) determination, I know something: I know that there are seeds that grow with amazing abundance in my life, and they produce crops that are a blessing to the world. At some point it might be worth wondering whether these are the crops I am constitutionally and spiritually intended to grow. Is it possible that all the experiences of my life, plus my DNA, plus the situations in which I find myself have amended or aerated, have rained on me and warmed me in just the right combination to grow those particular things? Is it just possible that my unique terroir is really good for exactly what I was called into being to produce?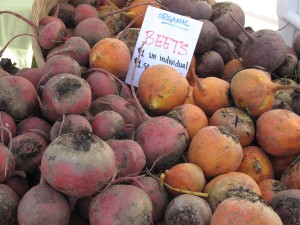 No, I don't seem to be growing either pineapples or edelweiss (much less both of them in the same geographical location), but what is so wrong with the lovely variety of winter squashes or beets I grow by the bushel with no effort at all? Why am I always dissatisfied with what I can do with grace and humor and creativity? Yes, every gardener has a disappointment or two: we really yearn for delphinium, but can't get them to act like the perennial they are; or we want Japanese iris, but the site just isn't shady enough. We sometimes can coax and coddle and get them to grow, but is the continual stress really worth it?
When I got pregnant, it never occurred to me to believe that I might give birth to a puppy. I knew that – National Enquirer aside – I was going to bring forth a human child. What is it about spiritual harvests that lead me to believe I am 'supposed' to be able to produce something completely alien to my soul species?
And so I invite you to consider what it means to prepare the ground when that task is less about changing and more about nurturing and cherishing. I invite you to consider that you are already ground that grows life-giving crops in joyful companionship with G-d (or the universe). Nurturing and cherishing is about caring in a loving and compassionate way, spending life-force on celebrating what is rather than regretting what isn't. [No, it isn't wise to be content with the unhealthy parts of my Self, but when my focus on 'fixing' occupies so much of my energy that I ignore the healthy and productive and life-giving parts, I am being equally unwise in the other direction.]
In other words, what does it mean to be attentive and intentional, to bother to notice what gifts and blessings I already bring to the world and to prepare to do more of that? What if my orchard produces unusual, vintage Gold Rush apples rather than the more recognizable and popular Red Delicious? I've asked the question before, but I'll ask it again: What would our world be like if we all spent more time enjoying our uniqueness and less time trying to fit into some bland expectation of sameness?
As you ponder, may these words accompany you with my blessing: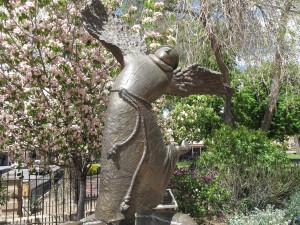 May Holy One,
may Holy Unique One,
infuse you with the unique image
that will bring delight to every breath.
May you have the courage
to receive the golden perfection of your own One Self.
May you have the generosity
to pour your priceless treasure into the world.
May you have the humor
to welcome the beauty of others
until, blending and weaving,
dancing and discovering,
we grow the splendor of perfect, glorious harmony.
Let it be so.
–Andrea
Text © 2015, Andrea La Sonde Anastos
Photos ©2014, Immram Chara, LLC
NOTE: The Chihuly piece is as close as I am willing to come at the moment to an image of snow; it was taken in the Denver Botanical Gardens last summer when the Chihuly installation was there.
And if you haven't had a chance to see the new fiber pieces: Emerge (which was finished in time for the shift of the season on 1 February) and Balance (which was finished last week), check them out here.