When we lived in western Massachusetts, I had not only an enormous flower garden in the front yard, but a vegetable garden about a mile away from the house in some of the richest farm land in the world. January and February were magical months when the seed catalogues arrived by the bushel, filled with the wonders of heirloom vegetables: multi-colored radishes, vintage tomatoes, purple potatoes, striped beets, and beans and squash with exotic names and provenances. The lush, rich descriptions of the fruit of these seeds – the colors, the tastes, the shapes, the growing patterns – trumped the high-flown rhetoric of any wine taster. Page upon page in each catalogue was dog-eared, carefully smoothed out, then re-dog-eared as selections were slowly made, eliminated, reconsidered, and finally brought under some kind of reasonable control in spite of the perennial impulse to buy more seeds than any fifty gardeners could possibly use – especially the ones who had a day job.
Imbolc (the spring quarter) is the season for planting seeds. Well, probably not this week in most parts of the United States and Canada, but soon…sooner yet for those who have cold frames and greenhouses. At least, not this week for the external seeds, the ones we will put in the ground and check on religiously until the first tiny mist of green emerges from the dirt, the ones we will then cover and coddle and stake as they try to survive spring's whimsical weather.
But Imbolc is not only about outward sowing; it is a season when we pay attention to inspiration and seek new knowledge…so it is also about sowing our spirits with the seeds of those inner crops we hope to harvest in Lughnasadh. And, just as those of us with gardens need to ponder, plan, assess, and eliminate or add to our choices from the seed catalogues, it is wise to pay some attention to both the variety and the quantity of the metaphorical seeds we choose for inward planting.
Too many varieties in too small a space will lead to stunted growth. The wrong plants for the soil and climate will not encourage each to blossom and fruit with the abundance that is inherent to the species. And – regardless of the care in choosing – internal weather patterns will provide their own challenges and blessings.
This is not abstract theory and pretty symbolism. I am inviting myself (and you) to pay attention to the process of coming out of a period of fallow renewal into productivity. I am inviting myself (and you) to remember that more is not always better. If we are bursting with energy after this time of Samhain rest, the temptation is going to be to max our schedules. The impulse is going to be to say, Yes, to everything that comes along (some of us have cabin fever and some of us just have short memories). And that is going to lead – inevitably – to stress and then to burnout. We do not need to repeat this pattern, a pattern that is all too common in the New World. The cycles of the year allow us to revisit our habits regularly, and to change those that are not fruitful (a word particularly apt in this season).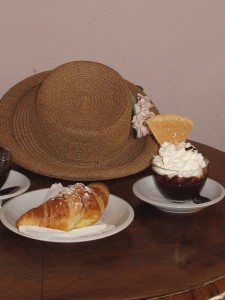 So, this week – before the season is too far advanced – offers the time to sit quietly with a cup of tea or coffee or cocoa (or a glass of wine) and be intentional about the coming year. There is an old adage, "If you don't know where you want to go, any road will take you there." Maybe there is a gardening equivalent. Something like, "If you don't care what you grow, you don't even need to look at the picture on the seed packet." But if you do care, now is the time to make the choices that will lead to the harvest you want. That may be something very specific (time to learn sign language, a trip to a zen retreat center, 20 minutes to meditate in the morning, dinner with your spouse or partner or family every night) or it may be something less concrete (a sense of peaceful center rather than chaos, discovering a new path or direction, fulfillment).
Imagine that harvest, allow it to fill your senses not be just an idea in your mind, cradle it in your heart. Write it down. Write it down on sticky notes and put one on your mirror and one in your wallet and one in your daily planner and one on your computer screen. Put it where you will see it when you need to make a choice so that you remember how you want to grow and what you want to grow. And then choose with the end in sight, in mind, in heart, in spirit.
May the start of your Imbolc be permeated with the wisdom of Samhain.
And if these words help bring focus and blessing, take them with you on your spring journey.
I unfold myself into
the nine powers of spring this day:
energy of sap rise,
clarity of morning dew,
curiosity of threshold,
integrity of seed,
trust of planting,
exuberance of growth,
grace of rainfall,
sustenance of sunlight,
refreshment of breeze.
Nine gifts to welcome and embrace me
as I rise from winter slumber.
–Andrea
Text © 2015, Andrea La Sonde Anastos
Photos © 2013, 2011, 2014 Immram Chara, LLC
NOTE: If you didn't get a chance to check out my Etsy shop when the season changed Saturday, you will find the photo "Garden in Bloom" there as part of the spring floral cards for 2015. There is also a new fiber piece (Focus: Emerge).