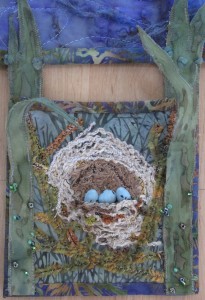 High Holy Days open conversations in paradoxical ways. Sometimes dialogue around the extended family table seems anything but. Often it is a rote repetition of past years, little more than familiar monologues competing for airspace. A neutral observer might wonder if there had been an intervening year, or growth, or change, or world (national, community, family) events that shifted the playing field and offered new topics for consideration. But these liminal times also have infinite potential and can invite us into a whole new perspective, a set of wildly challenging and giddily exciting questions. They can tilt everyone out of a dull, dispiriting emotional and psychological landscape into the alien beauty of rain forest brilliance.
Our beloved daughter and son-in-law were able to spend the High Holy Day of Christmas with us this year. In fact, they spent five glorious days of eating, walking, talking, church services, eating, talking, eating, walking, massage, walking, talking, listening to music, eating, watching movies, talking. By coincidence, we are all in a similar professional place — although at different ends of the continuum. They are making decisions (or at least starting to ask the questions) about where they may be geographically as our daughter's writing and the steady publication of her books allows her to consider leaving a 9-to-5 job, and our son-in-law's almost-full-time internship morphs into a full-time job in 18 months. My husband and I are making decisions (or at least asking questions) about how and where (geographically) we might retire.
Having read Barbara Kingsolver's book, Animal, Vegetable, Miracle, with its thought-provoking introduction about her family's decision to leave the southwest United States with its fragile ecosystem and over-stressed water table to move to a place with more natural resources to support a human population, those same concerns have become a large factor in my husband's and my conversation. It is very difficult to "not know" what we know. And with water a growing issue in this exquisitely beautiful part of our country, it will be a large factor in our decision. But aside from our concern about that, we were assuming that we would be moving toward the Twin Cities simply because that is where our (adult) children and (potential) grandchildren seem to be settled.
As we learned from talking to one another, they have also been asking the same questions with a slightly different nuance. They have come of age in the midst of the loud (and often extremely hostile) dialogue? conversation? shouting match? about global climate change. They would like to have children. So they have been exploring those areas of the country and the world that computer projections are suggesting will be sustainable living places as the climate change escalates (whatever is causing it and however rapidly or slowly it occurs). They are researching and considering because they understand that we can't just keep ignoring reality. It matters less to them whether this is one of the huge climate cycles that have swept across the globe over its long, long history, or a result of too many cars on the road. Something is changing and ignoring it is not beneficial. Ignorance is not bliss; it is simply ignorance.
Our conversations were sober and hopeful all at the same time. As it turns out (this is not, you understand, pure coincidence), we are four people for whom "visionary," "realistic," and "practical" trump "familiar" almost every time. We each love comfort as much as the next person, but it is not an ultimate goal for any one of us. A sustainable, intentional life is of far greater value…as is embodying the belief that one by one, making careful, life-giving choices, every single creature can change the world.
In the midst of Samhain fallowness, I had the image of new life gestating — new cosmic life. Something is waiting to be born, to emerge from the spiritual, emotional, psychological eggs in Samhain's nest. New life truly is shaping within, below, in the fertile darkness…and it is not just a carbon copy of last year's life. Stalks of wheat will always grow from a grain of wheat; we aren't going to get apples from wheat grains – not in my lifetime, even with genetic modification! But snowflakes are not the only things that are unique. Wheat – and corn and barley and apples and pumpkins – change and mutate naturally over time. Every wheat stalk is slightly different. Humans and birds and amphibians mutate over time; so does the earth. Every created thing is slightly different from others of its species. We need to pay attention so that we can see and experience the variations.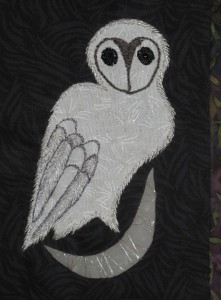 Samhain is not a mechanical pause; it is a period of change as profound as Imbolc with its spring explosion, or Beltane with its summer abundance. It is a different kind of change, but I am wondering this year if the world is entering the Samhain quarter of one of its long cycles. I am wondering if it is time for us to stop our ever wilder "producing" as a human population and, as a whole earth, submit to Samhain rest and deep thought. I am wondering if we are being offered the opportunity to reset our cultural definition of "success" and "progress."
As 2015 begins its slow unfolding, I invite you to share your wisdom here and wherever you get the chance. What we each choose will create the world we all share.
–Andrea
Text © 2015, Andrea La Sonde Anastos
Photos © 2012, 2014, Immram Chara, LLC
Note: The first photo is a detail from the fiber piece, Aspiration, which can be seen in the Archives here on the website. The second is a detail from Matrix, which can be seen in its totality in My Story (also here on the website.) The owl is available as a card (either individually or as part of the Lughnasadh Spirit Guide Set) or print from my Etsy shop.