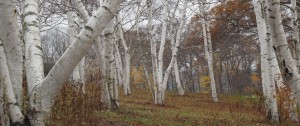 I suspect that your life is as full or fuller than mine at the moment. I suspect that, even with the best of intentions and the most careful of plans, you have more on your schedule than you want. I suspect that at least some of you are reacting to the days getting shorter and shorter, the sun less strong even when you have clear skies. I suspect there is more than a little crankiness in your households or places of work — or both. I suspect that some of you are not sleeping well, that the unresolved pain or grief of past years is niggling at the edges of your consciousness – whether that pain or grief is a long-ago death that occurred near the holidays or this is the first year without a beloved friend, spouse, parent, child; whether it is the feeling that the year is almost gone and you have little to show for it or sheer exhaustion from how much you did and still have to do before December 31; whether it is financial fears, medical concerns, employment worries…it is keeping you awake.
I offer the following guided meditation in the hopes that you might actually take the time to do it and ponder what it is telling you. You may want to divide it into thirds and do one section a day for three days. However you use it, my guess is that you need to spend more time breathing deeply, centered in your inward being, resting into deep wisdom…and less time shopping, cooking, cleaning, partying, and listening to what passes for Christmas music in the malls.
Close your eyes if you are comfortable doing that, or you may prefer to use the flame of the candle as a focal point to help your mind be still. Become aware of your breathing and allow it to be slow and deep, until you feel centered and calm.
Let yourself imagine:
You become aware that you are walking and you have been on this particular journey for some time – perhaps weeks, perhaps months. You are not merely traveling from one place to another, you are on pilgrimage or immram – a testing journey that challenges what you know and offers you transformation.
You move with an easy, practiced stride at a comfortable, steady pace.
You are currently in a wooded landscape with wide spaces between the trees and little undergrowth. It is an ancient forest, the trees are full of wisdom and peace. You are here to learn something important and so you are attentive to the sounds around you, awaiting the appearance of some guide or companion.
Indeed, such a guide steps from behind a tree somewhere ahead of you and waits for you to approach. Is this a human being, an animal, the spirit of one of the trees? Pause and notice the feeling in your body, your emotions. Listen to your thoughts and questions.
When you reach the guide, he or she offers a ritual of welcome and asks you what you are questing. What do you respond?
The guide hands you an empty shallow bowl and tells you that you must leave your fear in this place with the ancient trees. He or she explains that the trees will draw it up through their roots and out into their leaves, where the sun will transform it into energy.
You set aside the pack you are carrying and, looking around, choose the tree at whose roots you will pour your fear. With one hand, hold the bowl at the level of your heart, hold your other hand over the bowl and allow your fear to flow out of your heart, along your arm and to drip from your fingertips. Does it look like water, like blood, like oil? Is it dark, clear, milky? How does it feel as it moves through your arm? Does it sting like acid? Does it feel sluggish like tar or molasses? Is it cold or hot?
When the bowl is filled with all the fear you can summon, you kneel at the root of the tree and with a word of thanksgiving that the tree is willing to absorb your fear, empty the bowl. Your guide nods with approval, takes the bowl and makes a gesture of blessing, then steps behind the tree and vanishes from sight.
You rise and take up your pack and continue walking. Very shortly the forest ends and you find yourself stepping out onto a plain. In the distance, you see a single large tree and you walk toward it. As you get closer, you see that there is another guide waiting for you in the shade of the tree's great branches.
This guide also performs a brief ritual of welcome and invites you to set aside your pack and take another empty, shallow bowl. The guide shows you that the tree is hung with all kinds of fruit each one representing spiritual gifts or qualities. She or he explains that the tree will offer you the gifts you need for your journey, but you must accept all of what you are given.
Slowly, the tree begins to drop fruit to the ground and you gather it into the bowl. When the bowl is full, the guide offers you a small knife and says, "Eat." You cut each fruit and eat it, accepting its gift as you do. What are the gifts you receive? How do they taste? Are some sweet and some bitter? Can you identify all of them? Are any hard to swallow?
When you have finished, the guide takes back the bowl and the knife, blesses you and sits down against the trunk of the tree to meditate.
Again you rise, take up your pack, and continue walking. You come to the edge of the plain and see that you are standing at the top of a cliff. Below you is a lake. You climb down to the lake and walk to the edge of the water. As you near the water, you hear a voice say, "Behold, the house of G-d." You look around, but there is no building in sight. The voice speaks again from the water: "Behold, the house of G-d.". When you look down, you see your own reflection and hear the voice a third time, "Behold, the house of G-d."
What do you feel in this moment?
When you are ready, take 3 or 4 more deep breaths and then open your eyes gently and let yourself become centered in this time and place. Take some time to write or draw some reflections on the meditation, something that you can return to this week and consider again.
And I repeat the prayer from last week as a blessing on your attentive waiting.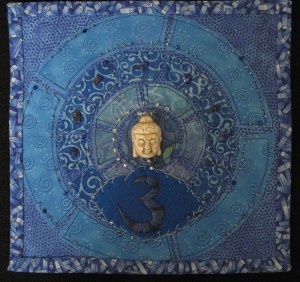 Listen. Ponder. Hope. Bless. Hope. Ponder. Listen.
Bless ears and mind and heart, open, waiting.
Bless silence, bless Spirit trembling on the strings of soul.
Bless body tuned to Holiness.
Bless questions; bless wondering, pondering, puzzling, imagining.
Bless offering, welcoming, blossoming, birthing.
Listen. Ponder. Hope. Bless. Hope. Ponder. Listen.
–Andrea
Text © 2014, Andrea La Sonde Anastos
Photos © 2014 Immram Chara, LLC
NOTE: The photo to the right is a detail from a Chakra panel which is available at my Etsy shop. This square represents the Brow or Third-Eye Chakra, the place of compassion (for self as well as others). The photo of Samhain birches is available as a print by special order (also through the Etsy shop.)