This was first posted on 2 April 2014– before many of you were reading my blogs. During my retreat, I am taking the time to revisit some of the exercises that have been most fruitful in my own spiritual journey and to see what new revelations might appear.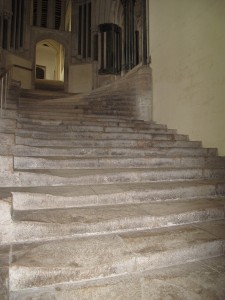 As we lean into the season that invites introspection more than any other, it is worth noting that the simple act of paying attention requires an investment of mental, emotional, and psychological energy. It is much easier to make habitual choices. In fact, we humans are internally wired to put things in categories and to apply old lessons to new situations so that we don't need to stop and think – which can be a dangerous activity when one is being chased by a saber-tooth tiger. Reflexes and instincts are part of us because they saved lives in some distant past. The genetic material that encouraged some of our ancestors to stop and think through each situation as if it were a one-off ("Hmm. Tiger. Should I run this time or not?") got eaten by the tiger. So as a survival mechanism, past habits are a life- and time-saver, except…
…except when they aren't.
Except when the old lesson doesn't really apply to the new situation.
Except when our prejudices are over-active and the category into which we put a person or an idea isn't accurate.
Except when we don't perceive or pay attention to the difference between, say, a rock and a hand grenade.
Except when the old habits become so habitual that they stop us from reflecting on the fact that we may be slowly suffocating (or, like the lobster in the cooking pot, may be about to die oblivious to the situation.)
Except when we are so locked into old patterns that we stop experiencing or thinking anything new.
So paying attention takes energy…and courage. We need to risk stopping and looking and pondering. And doing that will put our life in danger. At least, it will put our status quo life in danger of being changed. We may need to give up some of those old habits and habitual choices. Maybe we discover we have more in common with conservatives (or liberals) than we imagined. Maybe we will discover we share some profound beliefs with Roman Catholics (or Buddhists or atheists) – something our long-ago Sunday school teacher couldn't have predicted. Maybe we find that straight people (or gay, bisexual, lesbian, transgender, transsexual, and asexual people) are actually people like us, who need to go to the dentist, buy food, pay taxes, wrestle with fidelity, raise children, work for difficult bosses, suffer disease…and really don't think about sex all that much when all is said and done.
One of the fears that makes it hard for me to allow this transformation is my own mortality. What if somehow I "lose" myself in the process? After all, it is a form of death to let go of an old identify defined by familiar values, especially if they are values shared by a community that holds and supports me. Maybe it is the same for you.
So, this week, I invite you to spend some time in a cemetery. I invite you to wander a bit, reading gravestones. Notice what appears on them: dates, words of affection, mention of relationships to a wider community, scripture verses or poetry. Notice recurring designs or truly unique designs. Notice the size and shape of the markers, even their placement in the cemetery – near the gates, along the walls, in their own enclosed plot with a low fence or a wall.
I invite you to think about your own death. Think about what you would like on your own gravestone. Do you even want a marker? What do you want people to know about you? What matters to you about you? What defines the life you want to have lived?
Take some time to think about aspects of yourself you may be ready to let go, to let die. If you were to mark those aspects with a stone, what would it say?
Perhaps you may find this reflection helpful or meaningful:
I will not be seduced by a suave, top-hatted Death
who offers to wrap me in satin and mahogany
to protect me from the danger of living.
I will dance barefoot under a new moon with gypsies.
I will wear pied colors that clash and, yes, I will dance with gypsies.
I will not share my bed with thoughts as comfortable as flannel pyjamas.
I will insist on silken thoughts that make me blush
or raft me through the rapids of streams of consciousness.
I will not wear the eyeglasses of 20-20 habit.
I'll insist on telescopes and microscopes
and lenses that turn the world upside down…
and, while I'm at it, I will look in fun-house mirrors.
I will learn how deep I have to rappel to find the center of my heart
and how thin the air is at the far-flung boundaries of my dreams.
I will risk every atom of my being
to be alive.
–Andrea
Text © 2014, Andrea La Sonde Anastos
Photos © 2011, Immram Chara, LLC
Note: The two photos are available as cards or prints from my Etsy shop during Samhain.