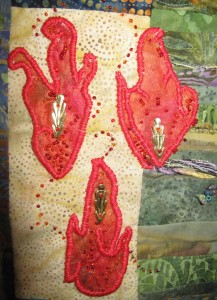 Beltane begins with fire – specifically with the bonfires lit from the nine sacred woods (birch, oak, hazel, rowan (mountain ash), hawthorne, willow, fir, apple, and ivy). From that bonfire, the hearth fire in each home is renewed and rekindled. These woods symbolize the female and male energies, wisdom, birth and rebirth, life and death, purity of intention, and love (particularly familial love).
This is the season in which we honor those who have been our mentors and role models, our heroes and heroines. We honor the fiery passion of idealism, and the willingness to sacrifice on behalf of the common good of the universe. It is a time, therefore, to be intentional about remembering what has provided inspiration for our growth in spirit, and then recommitting ourselves to becoming the conduit for that inspiration in the world.
Since Beltane is the season of maturity, it is the spiritual time when we acknowledge the fact that, as adults, we stand in the place of mentor and role model for others…and in giving up those habits or behaviors that hold us in an inappropriate immaturity.
This week, I invite you to join me in beginning our summer journey by refreshing or creating a personal meditation or shrine space somewhere in your home.
Make it a place of beauty with a small plant or candles. Then gather in it some of the perishable and imperishable things you have inherited from your ancestors and mentors. Photos and physical objects from past generations might remind you of the qualities of those persons (humor, compassion, generosity, strength). For instance, a rolling pin from your grandmother might remind you of lessons she shared while you cooked together. A watch might bring to mind the responsibility of an uncle who worked long hours.
List in your journal at least eight qualities you have inherited that you still live by or have built on – and, if possible, write a brief memory of the person in your past who best exemplified that quality.
Then list eight qualities that have been transformed or discarded as you experienced a different world (perhaps you would include a prejudice against certain religious or races or nationalities, or a pinch-penny attitude that interferes with abundant generosity.)
At least once a week, light the candles and take some time to express gratitude (silently or aloud) for the wisdom you have received, the lessons learned, and the privilege of being called to embody life-giving qualities.
If the following prayer inspires you, use it to conclude each meditation time.
Wild Beltane Wind,
lift me on your tempestuous strength
and cast me forward into witness.
Renewing Beltane Fire,
temper all the impurities that weaken me
and set me aflame with creative passion.
Rushing Beltane Water,
flood through me, clarifying and cleansing,
becoming a fountain of refreshment for those who thirst.
Fertile Beltane Earth,
furrow me deep until I am unconditional welcome,
and a fertile field bearing holiness.
May your Beltane be especially bright this year!
–Andrea
© 2014, Andrea La Sonde Anastos
On May 1, the seasons switched on the website and in the Etsy shop (from Imbolc to Beltane). New pictures went up in the slider, and new items are now featured for sale. Drop by and check them out.