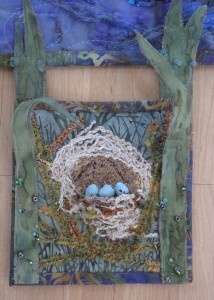 Henri Nouwen (the wonderful priest, author, and theologian, who died unexpectedly in 1996), lived the last part of his life in the L'Arche communities in companionship with those who have developmental disabilities.
In a lecture given at the Scarritt-Bennett Center, reflecting on the experience of living with those the world considers "broken," he said,
"The great mystery of God's love is that we are not asked to live as if we are not hurting, as if we are not broken…. The great invitation is to live your brokenness under the blessing. I cannot take people's brokenness away and people cannot take my brokenness away. But how do you live in your brokenness?"
For followers of Jesus, Lent is a time of considering our own brokenness more deeply, and allowing it to be part of the reality of who we are. But for those in the northern hemisphere, spring is a season of brokenness whether you are Christian or not.
It is, after all, the season in which seeds begin to break open with new life.
And eggs will break open with new life.
And the protective coverings of leaves will break open with new life.
I'd like to invite you to journey with me each week in my Wednesday Reflection pieces. Maybe you journey through journaling, or through meditating, or through art. Maybe these questions will be fruitful ones to open space for new possibilities.
If you "break open" some of your choices or some of your "mistakes," what blessing do you find within?
Can you recall a time when anxiety taught you an important truth about yourself?
Or pain was transformed slowly into wisdom?
As you think about your own life, do you tend to think of brokenness as opportunity or curse?
Do you feel shame about your mistakes or do they become funny or amazing stories about a moment of transformation?
Receive this prayer-poem from my heart. Perhaps it will offer words of companionship this week.
Fragmenting Wholeness,
you broke yourself and broke yourself open
to birth creation
showing us that we don't need to fear being shattered,
being hurt,
being afraid.
From broken grain, you feed the world.
Break open my abundance today
so I may know what it means
to be your blessing in this place.
–Andrea
Text © 2014, Andrea La Sonde Anastos
Photo © 2014, Immram Chara, LLC