Every once in awhile, I find it fruitful to stop and consider all the clutter in my life. Not just the physical clutter, but the emotional clutter, the psychological clutter, even the spiritual clutter. The beginning of Lent is not a bad time to pick for this activity and tomorrow is Ash Wednesday.
So here is my list of what I want to let go, give up, or move on past.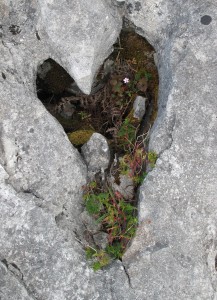 I want to:
* let go of the belief that if I were only mature enough, when someone says something hurtful, I won't feel hurt. I will. But that doesn't matter. What matters is how I respond to the hurt and whether I let it define me.
* give up saving "the best stuff" for a more important time. I'm alive now. Now is the time to use the best stuff (from the crystal to the really excellent chocolate bar, from my favorite pair of jeans to the heirloom tomatoes before they go bad, from the most beautiful piece of fabric in my stash to my most creative idea.)
* move on from old stories I tell about myself that trap me in negative energy spirals.
Instead, I want to take more risks and give my whole heart because I truly believe that I would rather have a bruised heart than a hard one, however safe it is to put up walls.
I want to share the very best of the very best of myself and the blessings I have received. Why would I want my second- or third-best anything to be my visible presence in the world?
I want to write new stories in fiber and in images and in words that tell the truth about who I am and who I aspire to be. And (to paraphrase Marianne Williamson), I want to stop fearing my power and my light, my brilliance and my talent…because once I stop fearing them all the way, I can share them all the way: a gift to the world.
That's my list. What's yours?
–Andrea
Text © 2014, Andrea La Sonde Anastos
Photo © 2014, Immram Chara, LLC
The photo is available as a special order card or print from my Etsy shop.